March 15, 2010
Elizabeth loves drawing but I don't always have the energy to supervise an actual drawing session.
A few weeks ago I pulled out our Aqua Doodle mat acquired to entertain Erika a couple of years ago and let Elizabeth try it out. She loves it! She's been doodling on the mat several times a day, crawling down the stairs on her own (with supervision) to the Aqua Doodle room with drawing obviously on her mind. Her drawings are getting more complex too, although they cannot be classified as anything beyond scribble.
I love it too because I can leave the "pen" lying around and even though Elizabeth has been known to "draw" on the walls, vacuum cleaner and floor, since it's only water it's not that big a deal. She also has been known to suck on her art supplies, so having something completely safe to eat makes this activity less stressful for both of us.
The mat itself is basically a thin sheet spread tightly over a coloured waterproof mat. I'm thinking about trying to make a few more with different backgrounds (we have lots of old sheets here!)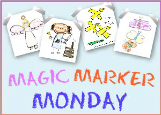 1
On March 16, 2010 at 05:07 pm
Grandpa H
said:
Priceless - especially her smile when she was actually drawing as opposed to examining or eating the pen! :)
2
On March 16, 2010 at 11:29 pm
Sarah @ BecomingSarah.com
said:
I haven't introduced Charlotte to markers yet - when did you introduce them to Elizabeth? I'm scared charlotte will eat them!
3
On March 20, 2010 at 08:46 am
Marie
said:
What fun! I think you have an artist on your hands.
4
On March 21, 2010 at 10:09 pm
Childlife
said:
We love aquadoodle mats too! And I never thought of making your own with a sheet -- that's genius. Just wait until Elizabeth figures out how to unscrew the cap on the water pen though -- the fun is just beginning! ;)



Michelle @ 5MFSN
5
On April 22, 2010 at 04:23 pm
Ron
said:
We have a great selection of Aquadoodle products at KimmyShop.com. Come visit us!
You might also like
- Painting; Take 2
(0.42723)
- Arts N Crafts
(0.408231)
- Valentine's Desk
(0.403209)
- Abstract Art
(0.393324)
- Playdough
(0.390173)
All