August 22, 2019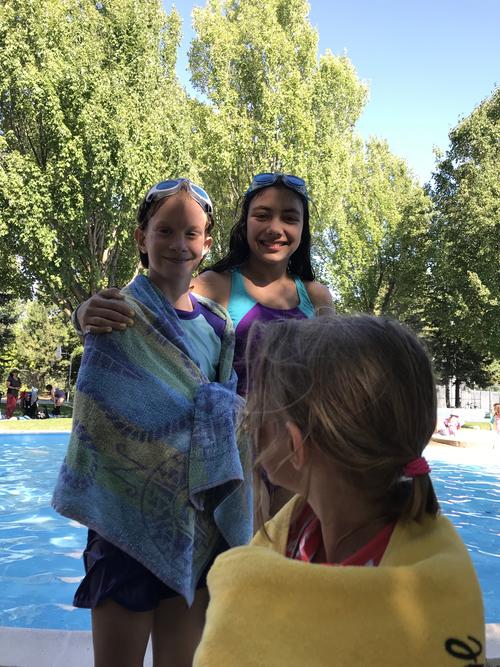 Our plan for this summer was fairly math focused. I wanted to finally finish off Elizabeth's division unit and start on Math U See Epsilon. This was actually LAST summer's goal so I felt motivated to push through and see if Elizabeth could make some good progress on fractions. I'm happy to report that we did finish Delta and made it about a third of the way into Epsilon. I was hoping to get through a good chunk of Matthew's Beta curriculum as well, which we also managed. Amelia learned about making patterns and practiced her writing of numbers and counting. I had hoped to get her to do more but it turns out that her ability to trace letters is currently very poor. This is partly due to the really strange way she wants to hold her pencil, so we spent a lot of time this summer working on pencil grips and working on actually writing letters and numbers instead of colouring along traced lines.
In addition to math, I had grand plans for science and poetry memorization that somehow never happened or sort of fizzled out. We did work on memorizing part of the three little kittens with the middle two kids as well as a poem about chocolate in french with Amelia but they were really not in the mood and part of the goal of homeschooling is to have fun so I ended up dropping it.
One thing we did work on extremely hard was our summer journals. We recently purchased a colour printer so we had the kids draw some pictures, write some text and then illustrate their text with photos. Elizabeth didn't have too much trouble with this task, although she did have a tendency to get sloppy with her handwriting if she wasn't in the mood. "I never remember what I did yesterday" she said. I was also amused by her tendency to write bigger, in bold or in italics for some words - mostly when she wanted to fill the page but couldn't think of what to write ("let's just write it BIG"). This year I insisted that Matthew needed to write his own entries as I felt his fine motor skills were behind and he needed the writing practice. We eventually settled on a requirement of two sentences per entry. I didn't insist on a daily entry for the entire summer out of self preservation. The process was excruciating, but the end result was worth it. I think Matthew's journal this year is my favourite - partly because it was so much work but also his attempts to both summarize the day while keeping his letter count down make it unexpectedly hilarious. Amelia just needed to tell me what to write and Matthew was very jealous. Amelia wasn't terribly into the idea though and it was surprisingly difficult to get her to provide a daily overview though she was always happy to do some drawings. I was happy with the end result and will do it again. Reading the three journals together give a pretty good overview of our summer from the children's perspective and are highly entertaining. If you haven't had a chance to read them ask the kids to show you sometime.
We did do a summer long unit on our bodies, reading many books about bones and muscles and blood etc. I recycled some old material that we did when Elizabeth was four to use with Amelia that was quite popular.
Matthew finally started working on learning cursive. I took it slowly because I felt the summer journal writing was hard enough and although he really wants to learn cursive he finds the process of using a pencil hard work.
We also started working on the ordinary parent's guide to teaching reading lessons with Matthew. He seems to have a good grasp of each letter name and sound. I actually skipped forward in the lessons a bit as he seemed to be ahead of where I had expected him to be. I think he's in good shape for learning to read in grade one.
I had Matthew play with snap circuits for science and we did a smattering of cooking classes. There was of course a lot of playing outside. This year I also enlisted Elizabeth's help as a teacher especially with Amelia and found it worked really well not only for giving me some valuable one on one time with Matthew (while Michael napped) but also it improved their relationship as Elizabeth had some enforced time alone with her sister. Lessons with Elizabeth turned out to be one of Amelia's most favourite parts of the summer.
The last week of summer we also did daily swim lessons for the middle two kids and tried to go swimming at local wading pools every day. The kids both made good progress and enjoyed themselves so much that they've asked to do lessons during the fall term. Elizabeth of course also participated in summer karate team training sessions.
Overall I think we managed to hit a good balance of work and play. We could have accomplished more if I had been a slightly more organized teacher (!) but on the whole I felt pleased with what we managed to accomplish.
You might also like
- Homeschool wk june 8-12
(0.50885)
- Homeschool wk apr 14-17
(0.501326)
- Homeschool wk may 11-15
(0.498106)
- Double Digits
(0.497268)
- Homeschool wk may 4-may 8
(0.494937)
All