August 4, 2019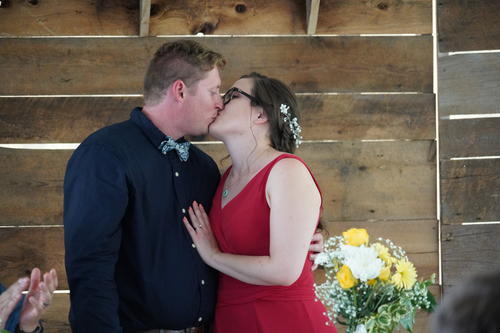 My cousin Aaron married Joanne . Sadly they picked a date while we were at the cottage, but we decided that we could drive down to the hippo house for the wedding.
The wedding itself was in Cayuga at Ruthven Park National Historic site and it was a picnic. The ceremony was outdoors. It was slightly longer than Michael's attention span but there were toys off to the side so Elizabeth took Michael to the side to play. After the ceremony, everyone grabbed a picnic basket and had a casual picnic while the photos were being taken.
Then we played games like spike ball and chatted until supper. Supper was a sit down meal with a pig on a spit. The kids were slightly horrified and we were amused by their reaction. Matthew said it was too sad to eat. There was dancing and donuts and candy. By the time we got to dancing the kids were really tired and Elizabeth was falling asleep on the grass, so we decided not to wait for pizza but drove back to the hippo house instead.
You might also like
- Orange Belt
(0.348333)
- Sport Day
(0.342857)
- Wedding #RayCray2016
(0.342787)
- Birthday party
(0.340524)
- Mother's day
(0.339174)
All