October 19, 2019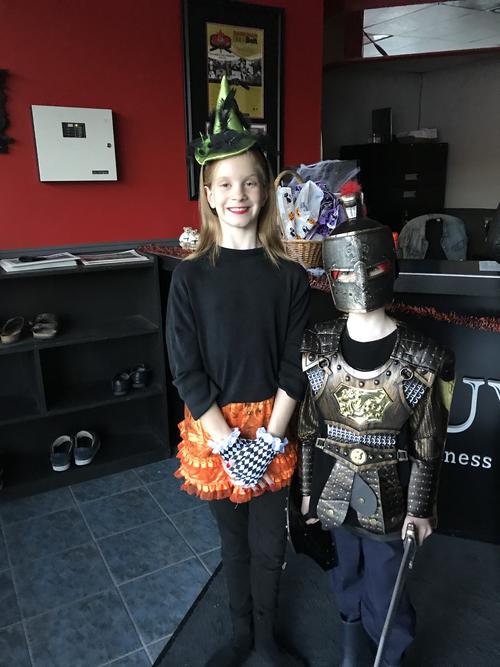 Elizabeth decided she'd rather help setup for the Douvris Halloween party than go to the two (TWO!) tournaments happening this weekend. She was pretty excited to be asked to help. So we dropped her off at the dojo and went to check out the ski show happening this weekend at the EY center. I was hoping to be able to find some secondhand cross country skis as we've concluded that we are not likely to go crosscountry skiing if we need to rent skis. All last winter we had the vague plan that we could rent skis one day but it turns out that the barrier to entry is too high for this mama once you add in the exhaustion of figuring out where to go and having to set aside enough time at once to make the endeavor worth it!
Anyway, someone told me the ski show was the best place to go so off we went. I sort of hoped that I could just buy something that looked possible for Elizabeth but it quickly became apparent that IF there had been any suitable secondhand crosscountry skis available at this show, they were long gone by the time we got there and in any case we would definitely need Elizabeth in order to buy her proper skis. Oh well. We looked at lots of booths and played in a random Waldorf preschool house.
I was pleased to be able to order Elizabeth a free snowpass which supposedly will give her some free downhill skiing this year (it's available to fourth and fifth graders). We tried out indoor snowboarding which was a lot of fun.
Then I decided that I was just going to buy skis, even if they weren't secondhand. So Amelia, Matthew and I all acquired skis and everyone was very happy about it.
After the ski show Matthew got his costume and I dropped him off at the Halloween party. Except that I was actually an hour early or something so we killed some time buying Elizabeth some bright red lipstick for her costume and random groceries and THEN dropped Matthew off for real. Elizabeth had been busy putting up many many decorations and was bouncing off the walls. Matthew had planned to go through the maze "only when the lights were on" because he'd found the experience too intense last year, but apparently decided he didn't even want to do that because he could see all the people waiting to jump out at him. I asked him if he'd had fun even if he hadn't done the maze and he said yes. Apparently the maze isn't the main attraction for him. I dropped extremely creepily costumed Erika off at the same time that I picked up Matthew and when I came back again later Elizabeth dragged me through the maze so I could see for myself how wonderful it was. They certainly do have fun with it!
It was clear that all involved had a wonderful time!
You might also like
- London
(0.442649)
- Flying Squirrel
(0.442068)
- Home
(0.431472)
- Grading
(0.428421)
- Adventure
(0.428172)
All