July 27, 2019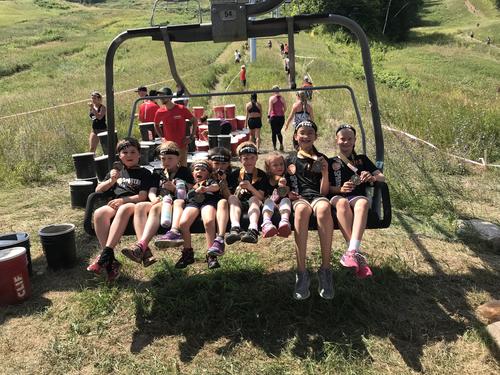 Spartan race was the day before the cottage in Calabogie but we decided it was fun enough to be worth the drive anyway. Elizabeth talked Erika into racing too and we met up with Aidan, Caitlyn, Evelyn and Jasmine. Elizabeth decided to do the Elite 3km race for 9-13 this year as she did the same distance last year without burpees and didn't have a problem. We thought this was a good idea because the elite race happens first thing (so it would be cooler). Plus last year the elites got extra swag. Of course this year there was no such concept, so she was put out. I did wonder what I was thinking agreeing to get to Calabogie so early in the morning!
When she arrived she was a bit nervous about competing against "the serious kids" and inclined to her usual "why am I doing this" drama, but luckily her race was first so it wasn't long to wait. She had thought that maybe she could do her race and then run with Erika, but after she finished she decided that would be overdoing things since Erika's race (1.5km 9-13) was immediately after hers.
The kids course this year was much steeper than last year and took place entirely out in the open with no shade. I was really glad we had opted for the earlier races because it was sweltering hot. We hung out under the ski lift area which was the only available shade. The kids had a good time on the chair lift. It was neat that the course went under the adult course, but this meant that much of the race was hard to watch and either required cutting across the adult course (an endeavor fraught with peril) or going quite a ways around. This was tricky with Michael. During Elizabeth's race the kids all hung out with Erika and had a snack but Elizabeth wanted to cheer Erika on so I had less opportunity to take good pictures of the action for that race. Aidan was doing this one too so there were also fewer adults. Elizabeth reckoned she could have done this race too if only there had been an extra 15 minutes between them.
Erika was pretty tired after her race but she recovered in time to decide to run the 1km as well, so she and Elizabeth did the 1km to "help" Amelia, who was running in her first formal race.
After racing was done, we headed over to Dave and Dianne's for lunch and to chill in their pool. I sent Yukiko a photo and we managed to lure her and Maria over as well.
Then I dropped Elizabeth and Erika off at Windsor park for a special outdoor karate book club (Harry Potter 4). It was a pretty fun day.
You might also like
- TriKids Triathlon 2017
(0.445763)
- London
(0.44373)
- Downhill skiing
(0.437768)
- Race Weekend (2km, 5km)
(0.431288)
- Canoe Camping
(0.43125)
All