August 1, 2019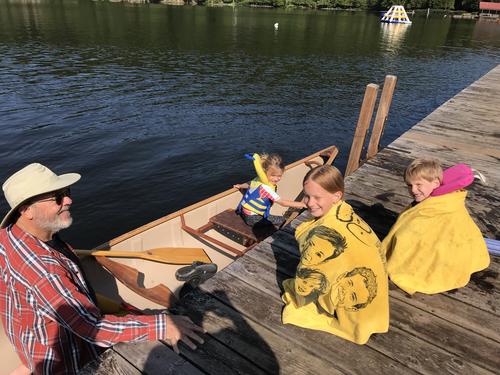 Matthew lost a tooth! The cottage tooth fairy always sprinkles chocolate around the tooth instead of glitter. Matthew approved greatly.
The water was warm, there was no wind, it was sunny and basically conditions for our point swim were perfect. Predictably the kids did not want to swim. I had foolishly told them that they only needed to swim two out of the three weeks we are up here and they had decided that this should be the week to skip. Amelia ended up going in the canoe with Grandpa as there is a limit to how many reluctant children I can coax into the water.
Once everyone had warmed up they went back to the beach
Pony riding later was much more popular. Rob organized a resort wide all ages soccer game which was unexpectedly amusing. Elizabeth and Matthew don't really have the idea of what to do so mostly ran around. Elizabeth started to get the idea by the end but needed to be a bit more aggressive in order to steal the ball away. A few players (notably Rob and Andrew!) clearly play all the time. The kids were impressed by how good Andrew was. Also impressive was our goalie, who didn't let a minor detail like only having one leg due to a badly fractured ankle stop him. Actually he went swimming and canoeing (with a special waterproof cover) so I don't know why I was surprised to see him diving all over the field to save the ball.
You might also like
- Birthday reprise
(0.397436)
- Skating Show
(0.396861)
- Mooney's Bay
(0.388829)
- Garden
(0.388448)
- Cottage Days:Cousins
(0.378348)
All