June 28, 2019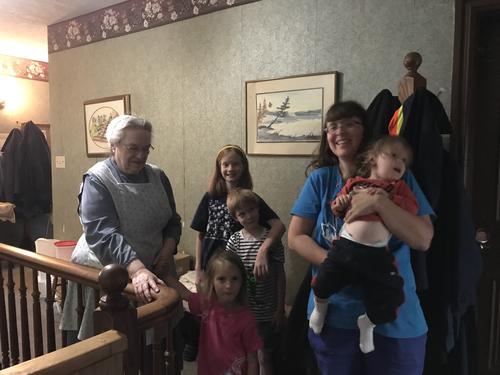 It was a day filled with family. First we had breakfast at Schmitsville and a walk around the pond.
We checked on the new baby and said hi to cousins. We wanted to go to the splash pad with cousin Jacob but it was raining. Luckily we had planned to get wet anyway so we decided we could just dance around in the rain and if we heard thunder we'd come in. First we played in the playground. It poured for a while and then we went and played in the splash pad also in the rain. It was pretty fun. Afterwards we went to the church to see the setup for the vacation bible school Auntie Mary was helping with.
We dropped in on my Great Aunt Deborah and I was glad we did as she is moving and won't be across from the sausage store anymore! That's a big change!
Then we went to Rob and Val's for supper with Murray and John and a few cousins too. The kids were very excited to find snails and sorry that I wouldn't let them bring them home.
You might also like
- Rain
(0.335188)
- Sheep Shearing
(0.329149)
- Rainy tulips
(0.328725)
- Mother's Day
(0.327785)
- Rock Smash Hike
(0.327731)
All