March 18, 2010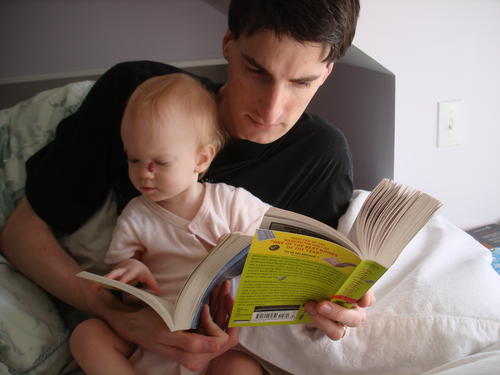 Elizabeth has either had a cold, a cough or the stomach flu for most of the last month. Our poor baby!
Now both mom and dad have spent the last couple of days discovering the joys of family illness. It turns out it is very difficult to stay well hydrated as a sick breastfeeding mom. On the upside Elizabeth is much better except when she throws up (approximately every 12 hours), but she's rather perplexed that mom and dad have suddenly taken to spending all day in bed. Boring! I'm feeling tentatively better as well, aside from an absessed tooth needing a root canal on Monday. Brendan is still feeling completely rotten.
I tried the black tea eventually. Didn't seem to help!
1
On March 20, 2010 at 08:43 am
Marie Smith
said:
UGH! Sorry y'all are still sick....this winter has been very rough on us but spring is on it's way and we can all get outside and let those germs loose in the air. No more stuffy inside air to keep us all inhaling the germs over and over and over AGAIN! Hope y'all feel better soon!
2
On March 21, 2010 at 00:43 am
Stephanie
said:
Oh-so-sorry about the sickness! Our 1-year-old is still sick and now our 3-year-old is coughing and stuffy. Uh-oh.



Get Well Soon! I'm hoping and praying for that same thing for my girls...
3
On March 21, 2010 at 04:34 am
Grandma H.
said:
Am praying for all of you...hugs from afar.

She looks very intrigued with the big fat book, can't imagine the pictures. Careful what you show her, she might figure out how to take it apart!
You might also like
- Epiphany Back to School
(0.31853)
- 12 Hours of Christmas
(0.317434)
- Repointing
(0.317406)
- Tummy Bug
(0.317355)
- Jello bath and peaches
(0.316847)
All