November 16, 2019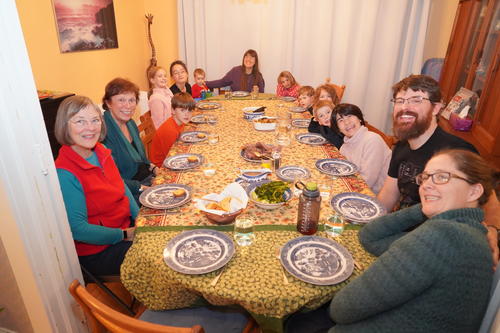 My aunt Muriel and her cousin Pat came to visit Ottawa. They met Janice, Elizabeth, Michael and I at the Come Sing Messiah rehearsal. Amelia and Matthew were at skating, and afterwards Daddy swapped out boys. Elizabeth was quite relieved as she then got a chance to sing too. Auntie Janice even sat with her in the alto section so she could learn her own part!
After choir we had lunch and hung out at home while Elizabeth disappeared to her bo class. Erika came over after bo for a sleepover as the girls wanted to practice karate before their tournament tomorrow. The Teevens crew showed up in the late afternoon for supper. Then Maria said she wanted to come too so we had a full house! Amelia and Matthew were very excited as Maria had promised to sleep in their room.
We had a little impromptu cooking class as Erika and Elizabeth decided they wanted to make dessert and various others (mostly Xander) helped me make yorkshire puddings for supper.
Muriel showed off her photos from her recent trip to visit family out west and we chatted late into the evening in front of the fire. It was a pretty relaxing evening.
You might also like
- Virtual School: Week 38
(0.376079)
- Wedding prep
(0.375505)
- Lac des Loups
(0.372857)
- Summer school week 2
(0.366995)
- St Nicholas Day
(0.362353)
All