July 23, 2019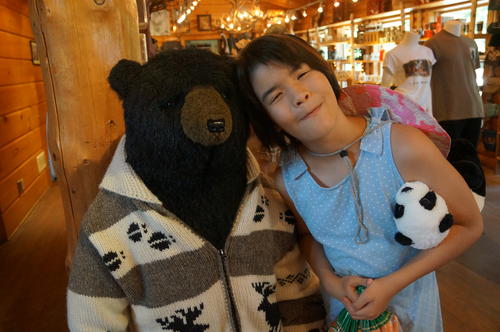 I took the kids and Erika, Maria and Auntie Yukiko to Park Omega as a birthday present for Maria and Yukiko. Apparently they have bears, and Maria LOVES bears. Uncle Chris wasn't too sure about having the animals near his car, so we took our van. Daddy stayed behind to help Uncle Chris build a new deck. Actually I've meant to take the kids for quite some time so it was a good excuse.
We bought the suggested quantity of 3lbs of carrots per person when we arrived, although I didn't buy any for the adults. I figured we could share! There was a herd of elk at the gate, so getting in was very very slow. At first we thought we weren't going to get a chance to do much feeding but then all of a sudden we were completely swarmed by animals licking and chomping our windows. It was ...intense. Actually most of the kids were initially terrified, especially poor Maria who got drooled on with a very large elk who got most of his head in the car via a window left down a wee bit too low. We ended up moving the kids who were less happy about the wildlife encounters into the back of the van where the windows didn't open. Many of the other cars had people poking their heads out of their roofs so we allowed the kids to take off their seatbelts while I crawled along super slowly. I think the novelty of standing up in a car was almost as exciting as feeding the very very hungry animals. The car was completely covered in saliva by the end, especially the tops of the windows.
I personally found the bison to be the most intense part, although there was no feeding allowed here. I had visions of animals suddenly deciding to headbutt the car. Luckily we got through with no mishaps.
The bears were very popular (as expected) and Maria even came forward to poke her head out the roof and get a better view.
I think in the end everyone enjoyed our visit very much and most of us at least would like to come back again another day!
You might also like
- Surprise
(0.399194)
- Happy Birthday
(0.397219)
- Winter Celebration
(0.394146)
- Pumpkin picking
(0.393967)
- Relaxation Techniques
(0.393661)
All