March 25, 2010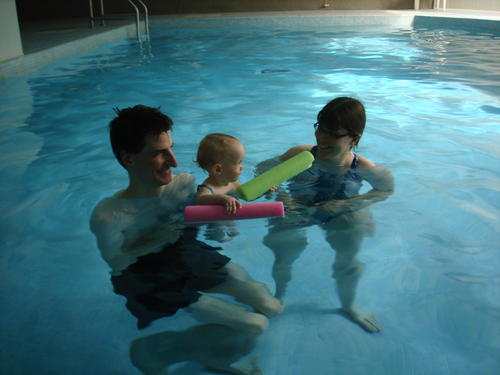 Elizabeth is feeling much better (no more throwing up - woo hoo!) but she does seem to have caught a nasty cough. Hopefully it will go away soon because I am bored of writing about injury and illness. Bleh.
It's time to start doing fun things again, like the time we went swimming at Grandma and Grandpa J's condo a couple of Saturdays ago right before we got sick. Elizabeth loved the giant bathtub... I had been worried about how she'd react to the temperature but it turned out the water was 32 degrees; warm enough that even Daddy admitted it was a nice temperature. She splashed and laughed and played with the pool macaronis (what else would YOU call short pool noodles?).
In other news, Elizabeth has discovered that her finger is exactly the same size as her nostril. Daddy spends quite a lot of time these days explaining to her that while it is a pretty exciting discovery, she really needs to stop showing off this new skill. Mommy probably doesn't help matters with all the giggles.
1
On March 27, 2010 at 11:26 pm
Tom Sharp
said:
Glad you guys are starting to get better. That was getting a little scary, even from my considerable remove.



Take Care.
2
On March 28, 2010 at 03:50 pm
Jenn @ Beautiful Calling
said:
Oh, how funny about the finger nostril thing. My little ones went through it too. Hard not to laugh LOL
3
On March 30, 2010 at 02:30 am
Stephanie
said:
I'm so glad she's feeling better!



Our girls are better too, although they both have lingering coughs. I'm hoping that the coughs head out of town soon too...
You might also like
- Water Baby
(0.366627)
- Boxing Day
(0.360054)
- Roommates
(0.359894)
- Three at a time
(0.359467)
- About the boy
(0.359408)
All