November 10, 2019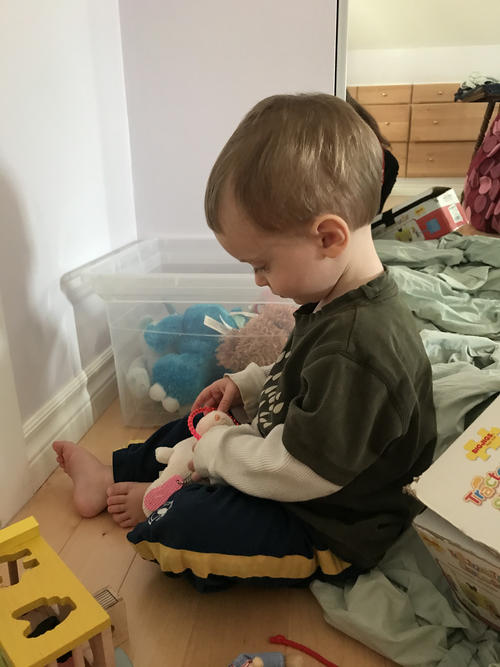 At 22 months Michael likes to sing. His favourite song is "Baby Shark" (doo doo doo) but he will often sing to himself while playing and I recognize many of them from music and french classes.
We've had our first snowfall and while Michael does not love his winter gear he did think that shoveling was interesting. He adores putting on Matthew and Amelia's cache-cous along with his balaclava style hat. But the hat part always gets pulled off his head so it's more like he's wearing a million scarves. He doesn't quite seem to have the idea. He likes putting on mittens ("mitt, mitt, mitt") but takes them off again almost immediately. Elizabeth thinks watching him outside is hugely annoying because it's a constant dance of putting on mitts, him taking them off and then bringing them to you to put back on ("mitt, mitt, mitt").
He likes to throw balls around and in time-honoured tradition his favourite toys are those that belong to siblings (or "contraband" as we like to call it around here). The other day he got into Matthew's toolbox and was having a grand time with the hammer. Amelia's Barbie wardrobe is another great favourite as it has lots of tiny pieces and drawers to open and doors to shut. He's started building his own little structures out of fort magic, but needs a lot of help. He's got his own collection of stuffies now but loves ALL stuffies and carries them around the house. Then he likes to put them on the floor and cuddle them while rolling around with them. They are now "mahmahs".
He loves reading books. His favourites include Baby Boo, Fred and Ted like to fly, Go Dogs Go and Rocket Science for Babies.
You might also like
- 23 months
(0.413249)
- 21 months
(0.397912)
- Grading for a brown belt
(0.392894)
- St Nicholas Day
(0.38277)
- Virtual Piano Recital
(0.381522)
All