March 22, 2010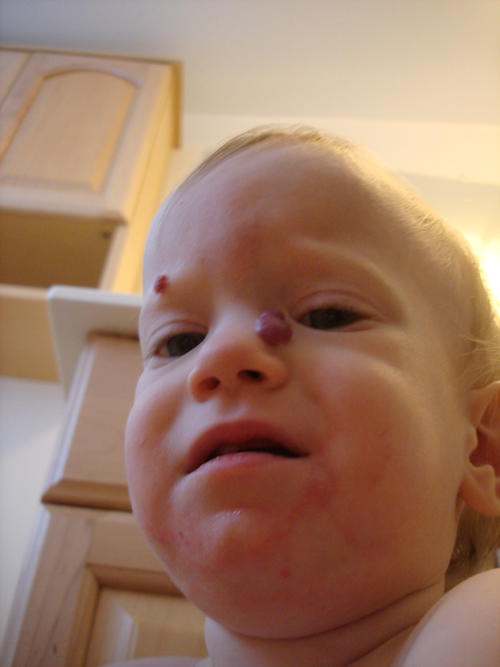 We're digging ourselves out of a mountain of laundry and other household chores that have been put on hold during the last week, not to mention catching up at work. So please excuse the delay in blog updates.
My dentist asked me how our weekend was this morning. He was a bit shocked to hear we'd spent pratically the entire time at the hospital. I think he had been fishing for sympathy as his wife just had a hip replacement and wasn't expecting to hear such a tale of woe. I was very sympathetic! My root canal this morning did go well, although once the six shots of freezing wore off I found out why my dentist prescribed T3s. Ouch...
Auntie Janice recovered dramatically from her illness after anti-nausea drugs and IV fluids (still under the weather, but much better). Elizabeth is still throwing up a couple of times a day.
On the seventh day of PukeFest, the doctor gave to us: seven days of antibiotics...
I've learned some new parenting skills in this month of health crises.
How to check for dehydration in a one year old (dark circles under the eyes, sunken eyes, lethargy, cold extremities, dry mouth, reduced volume of pee, sunken fontenelle at the top of the head).
How to give Elizabeth oral medication when she really, really doesn't want it. We have 6.5mL to swallow twice a day.
1
On March 23, 2010 at 07:16 pm
Grandma H.
said:
Now there is a very sorry looking little girl. At first I thought it was a horrible rash, but then realized it was just the antibiotic dribbling out...Get better quick, all of you!
2
On March 29, 2010 at 09:22 pm
Rachel@GraspingforObjectivity
said:
Yikes...and a root canal to go with! Gee...you need a vacation to somewhere sunny and warm and sickness-free!
You might also like:
-
Pandemic ER
-
Crawling and Co-Sleeping
-
Hemangioma update
-
Elizabeth almost gets weaned
-
Sportball