December 14, 2019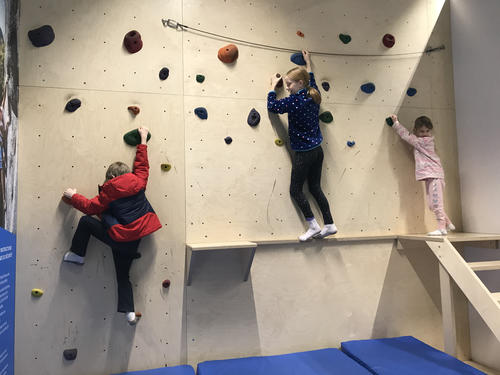 It was the last skating day of the year so family was invited for a "free skate" after Amelia and Matthew's lesson. Elizabeth wanted to come but we didn't have skates yet. So we went to buy Elizabeth some skates as soon as Figure8 opened.
In a quest for some Christmas presents and some equipment for activities we're doing in the winter we decided to check out Decathlon as it was on the way home from skating. It's quite an amazing store! Organized by sport, it has a lot of different activity areas where the kids could try things out. There are free seminars (they were doing breakdancing for kids when we arrived) My kids probably liked the climbing wall the best but they also thought the little nutrition activity on guessing how much sugar was in various drinks was interesting. Elizabeth wants to go back and try out the virtual skiing simulator at some point.
The martial arts section was underwhelming but we were quite intrigued by the rest of it. Even the checkout process was amazing - just dump what you are buying in the basket and everything automatically tallies up.
You might also like
- Skating Show
(0.384615)
- Boxing Day
(0.362259)
- Pregnancy Announcement
(0.36)
- Broken nose
(0.356833)
- Wedding prep
(0.354362)
All