December 24, 2019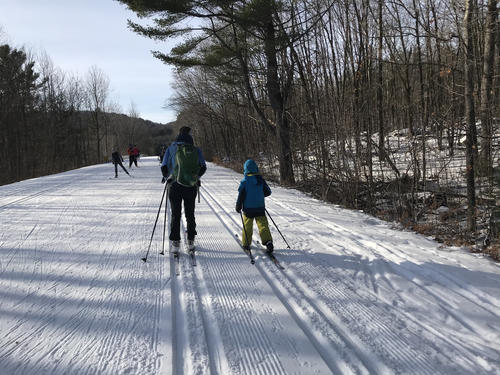 My neighbour Marit invited us to go crosscountry skiing with her Christmas Eve. I was going to leave Michael with Brendan but she had a ski stroller she said she could bring so I brought him along. I'm not sure how much Michael enjoyed this but Brendan certainly appreciated having the extra time!
I was a little skeptical that there would be any snow as it has been melting rapidly but she checked with the park and all trails were open!
Marit's friend came along too, so between us there were three adults and nine kids! Two of the kids were too small to ski and they rode in the ski stroller pulled by Marit's friend who was an incredible skier. At one point he was pulling the stroller, and five year old Emily (who was hanging onto the stroller) while cradling his four year old in his arms!!!
Marit had a neat harness that she leant me to pull Amelia, which was really great as it became evident almost immediately that Amelia wasn't going to get very far under her own power. We ended up skiing almost seven km in the end, which was very exciting for our first "real" ski expedition. I was very proud of Matthew and Elizabeth who immediately took off to the front of the pack and stayed there the entire time. I actually didn't see them at all except for when they stopped - they were so far ahead!
You might also like
- Halloween
(0.405848)
- Snow bears
(0.403402)
- Canoeing
(0.395349)
- #Jessdoesthemath
(0.394472)
- River Oak
(0.393939)
All