January 11, 2020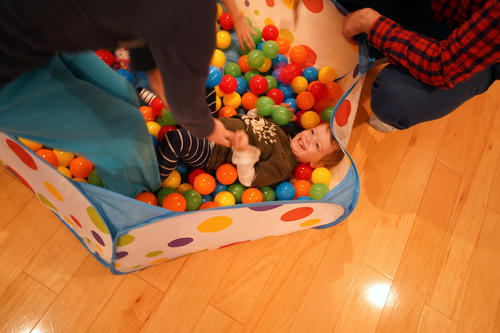 Michael usually goes to bed around 6 and is in the process of dropping his afternoon nap, so he's not at his best in the evenings.
Since his favourite meal is also breakfast, we decided it would be best to have his party in the morning and invited everyone for brunch.
Godparents Kate and Joel are on the final days of baby watch, but baby obligingly held off and they were able to attend.
Michael enjoyed his party very much. Toys! Cousins! Running around! Plus everyone was paying attention to him for once. We set up an obstacle course in the basement and had everyone go play for a bit first, then we had brunch. I mostly didn't bother with a theme, except that I couldn't resist making a "baby shark" out of watermelon in honour of Michael's very favourite song.
Michael was hilarious about his cake. His ability to blow out the candles was severely lacking - the flame didn't even flicker. I did get Elizabeth to help me hold the cake so that I could grab little hands if needed and it turned out that was wise. Michael tried to blow briefly but then decided he'd rather clap his candles out, a new thing introduced by Auntie Mary which has utterly captivated my children despite their inability to actually snuff the candles out that way. It's extremely nerve-wracking as they all wave their hands far too close to the candles. Only Matthew has successfully managed to extinguish a candle by clapping, but I'm happy to report that I managed to help Michael with his. It DOES cut down on the "baby spit" issue though.
After cake we opened presents and Michael approved very much of this as well. All in all it was a wonderfully relaxing party, remarkably free of toddler drama.
You might also like
- First outings: Music, library, karate
(0.402299)
- Grading for a brown belt
(0.402041)
- Je d'école
(0.395131)
- Virtual Piano Recital
(0.391304)
- Music
(0.387524)
All