January 12, 2020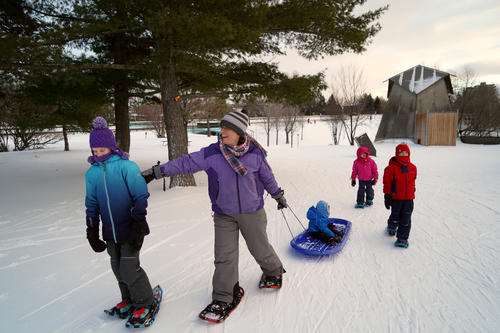 We're trying to do fun things as a family Sunday afternoons, so today we decided we would go snowshoeing. There's not a lot of snow, so we figured snowshoe-less Michael could walk if he refused to ride in the sled. Spoiler: he refused to ride in the sled. The other kids enjoyed using it to slide down some of the hills though and a certain four year old had a series of meltdowns over our expectation that she could use her snowshoes for locomotion rather than being pulled in the sled.
We actually ended up carrying Michael a good chunk of the way but we still went as far as we normally do - just past the sledding hill. All too soon the sun was setting and Michael was falling asleep so we knew it was time to head back.
You might also like
- Three at a time
(0.33506)
- Family Day 2011
(0.327839)
- Spring snow angels
(0.32699)
- Pie Day
(0.324232)
- First snow!
(0.323965)
All