December 3, 2019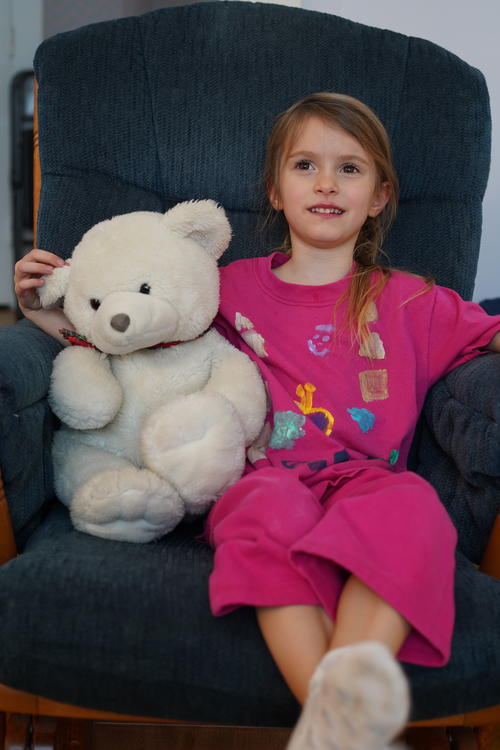 At four and a half, Amelia may be out of diapers but she's definitely still struggling on occasion. It's quite mind boggling how often she has accidents at school, especially compared to her siblings (we can't recall either of them having any!). In any case, Amelia is quite good at dealing with her own cleanup, to the point that her teachers didn't actually notice how often she was needing a change of clothing. Sigh.
Very creative, Amelia still loves to invent elaborate play worlds and adores playing with playmobile, fisher price, shopkins, stuffies etc. Really anything that she can use to make little plays with. Still also loves drawing. Her pictures have gotten much more sophisticated recently with snowmen and reindeer being popular at the moment. Recently she started drawing people upside-down the way Elizabeth used to.
Her speech is getting clearer but she still usually leaves off the "s" (no-men, nacks and no-shoeing). Seems to get along okay in school and her French is definitely making progress. She's inventing many fewer words now that she has more vocabulary which does make her easier to follow.
She seems to enjoy school and talks about many friends that she likes to play with.
As the baby girl of the family who has had more than her fair share of teasing by big brother Matthew, she has developed a habit of screaming in response knowing that by milking the moment she probably will get the advantage. Sadly for her we are now onto this strategy, but since Amelia tends towards the dramatic she does still tend to resort to screaming and crying when she wants her own way.
That said, she is generally a cheerful and happy kid with a pretty sunny disposition and she's especially fun to be around one on one without her siblings to annoy her. That doesn't mean she wishes she was an only kid; she especially loves playing with her brothers.
You might also like
- Amelia is five
(0.438976)
- Nine months
(0.438827)
- Amelia 20 Months
(0.430435)
- Amelia is 5 and a half
(0.429885)
- FIVE
(0.428839)
All