December 6, 2019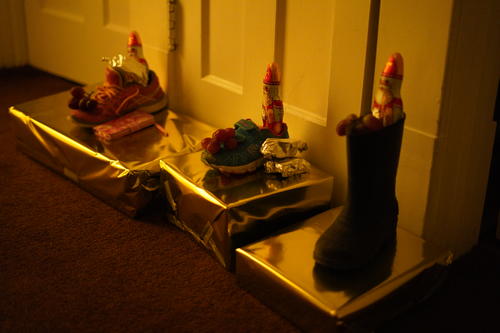 St Nicholas was eagerly anticipated by the children, although Matthew made it very clear that he knows this event requires parental involvement. We've never actually pretended that Santa is real, but I've been much more circumspect about St Nick. I do explain that St Nick was a real person that died long ago. Ironically, I feel that our refusal to tell fibs about Santa has made them more likely to believe. After all, most of their friends seem to think Santa is real so it's very strange that Mommy and Daddy keep saying it's a pretend story that's fun. In any case, the older kids seem much surer that this is a fun game we play. I gather they ARE puzzled by how we manage the donkey though.
Auntie Mary was here for St Nicholas for the first time so we enjoyed introducing her to the joys of selecting appropriate footwear and I think she enjoyed seeing this tradition close up.
I tried a new kind of gluten free licorice which turned out to have ammonium chloride as a main ingredient. Apparently this is a delicacy that you either love or think tastes like windex. I think it tastes like windex.
The last few years we've shifted St Nicholas to have European candy from the Dutch store, which I find both nostalgic and deeply satisfying.
Elizabeth's St Nick gift was games on her ipod and an inflatable boat. Matthew received a hot wheels race track. Amelia received a programmable kitten. Michael received a pop-up tent and tunnel/ball pit. I received a sweater dress, Brendan received new sweaters and Lorianne and Auntie Mary got tea.
You might also like
- Good Friday 2015
(0.398068)
- Apple Picking Reprise
(0.385291)
- St Nicholas Day
(0.384534)
- St. Nicholas
(0.38392)
- Egg Hunt
(0.379447)
All