October 18, 2019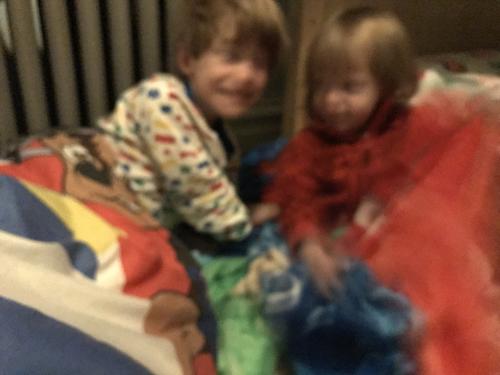 It's a terrible photo, but it's what I have to commemorate Michael's first sleepover.
This was actually taken the morning after. Not that Michael ACTUALLY spent the entire night downstairs... In fact we rescued poor Matthew from the baby at about 11pm, when Michael woke up and wanted to nurse. We heard the baby and came down to find Matthew sort of feebly patting Michael on the back and saying "please go back to sleep".
We were doubly amused because Matthew had complained that Michael wouldn't go to sleep peacefully in the first place. The three of them had excitedly settled down and were bouncing off the walls but strangely enough by the time Matthew and Amelia were tired and wanted to sleep Michael was still very chatty and wiggly.
You might also like
- Roommates
(0.346505)
- Piano Recital
(0.346334)
- Room swap
(0.342857)
- Sick
(0.341853)
- Skating on the Canal
(0.341506)
All