April 1, 2010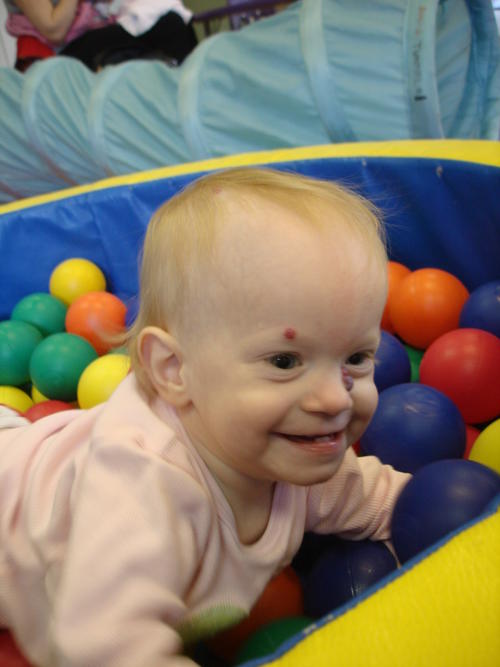 We've been extremely busy at work gearing up for the next phase of a project implementation. I spent yesterday exercising my rusty French in Quebec while training a new batch of users while first Daddy and then Grandma looked after wee munchkin. Many walks were enjoyed. "I think she might be almost ready for the baby swings", said Grandma.
So when my turn came today and it was beautiful, Elizabeth and I naturally headed to the park first. Elizabeth is definitely ready for the baby swings. The higher I pushed, the more she giggled!
After lunch, Daddy decided to head to the office, so we hitched a lift to the Mothercraft Ontario Early Years Centre Drop-in playgroup. I'd heard about it several months ago but usually don't think of it before about three o'clock in the afternoon when they are about to close. What a fantastic resource it is though! A giant room full of toys, sensory bucket, a craft... Elizabeth made a beeline for the mini ball pit and spent more than half an hour "swimming" around joyfully.
Thursday afternoons are pretty quiet and there were only three other kids there. One little eleven-month-old boy is very affectionate and took quite a shine to Elizabeth, following her around and trying to hug and kiss her. He actually did give her a big hug and kissed the back of her head to Elizabeth's alarm and outrage. The next time he tried, his mom blocked his access and in doing so earned herself a huge smile, grateful look and an instant friend in Elizabeth. All too soon it was circle time and time to go home, but not before succumbing to the lure of the toy library, where you get to take out up to two toys for up to two weeks.
Then we walked back to Carling and Kirkwood and took Elizabeth's first public transit home (OC Transpo Bus route 101). It was rush hour and pretty crowded but we were given a seat, which I took gratefully. I cannot imagine managing a folded-up stroller on top of everything.
1
On April 12, 2010 at 07:41 am
Marie Smith
said:
Sounds like such a fun time!
You might also like
- Cumberland Heritage Museum
(0.405691)
- Family Day
(0.403467)
- Cottage Days: Eggs
(0.402504)
- The Big Clock
(0.401153)
- Je d'école
(0.400866)
All