June 6, 2019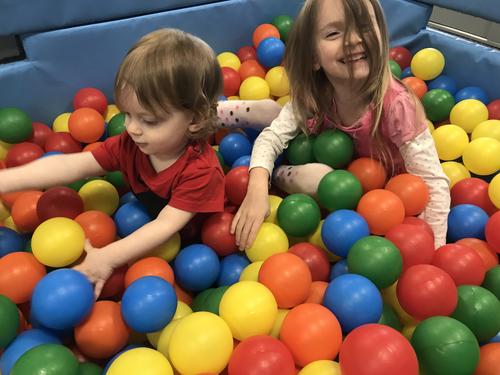 I was looking for another French class for Amelia to attend as she gets ready for kindergarten next year and discovered 123 Petits Pas.
They have lots of classes for toddlers and preschoolers around the city but the only one that really worked for our schedule was out in Barrhaven. It was in a gym which looked pretty fun though, so I figured it was worth trying despite the drive.
Amelia and Michael very much liked the gym part and were much less into the instructional bits. I thought the program was quite well put together but unfortunately I also spent most of the class feeling completely out of place. There was also some weirdness where the instructor went out of her way to explain that it was fine for the kids to run around and not pay attention during circle time (which I actually agree with but only to a point), but then was obviously thrown by the kids running around and not paying attention.
My French is not too bad; I'm certainly capable of carrying on a conversation. Amelia doesn't really speak much French yet (unless you count the French sounding gibberish that she sometimes makes up the pretend she can speak French). Turns out the class was really aimed at complete beginners for both parent and child. I was rather nonplussed to get take home sheets that had pronunciation guides for basic terminology (think climbing words, or body parts).
I had hoped that Amelia would get a more structured overview of various topics - and she did - but also we spent a lot of time on things like colours and Amelia already knew hers. So basically it turned out to be just slightly too easy for Amelia.
I also thought that the instructor spent too much time chatting in English - in fact pretty much all of the parents spoke significant English outside of the circle time, probably because they didn't have enough French to carry on a conversation.
Anyway it was fun and it gave us about 70% of what I was looking for because I was able to take our new environment as a cue to introduce some new French vocabulary. I would hesitate to do it again though because I could probably accomplish the same goal by just going to new places. 123 Petits Pas doesn't appear to have options for kids who aren't complete beginners and especially not for kids with parents who already speak good french.
I do think they provide a valuable service and fill a missing gap, but unfortunately my quest to find services aimed at helping my kids get up to speed prior to entering kindergarten is not over. So far Elizabeth had by far the most options and was therefore the most prepared. Hopefully there will be something new that we can find for Michael before he starts school!
You might also like
- Virtual school: Week 5
(0.458124)
- Social Distancing: Day 3
(0.437555)
- Virtual school: Week 4
(0.437296)
- École LaGlace
(0.435445)
- Dovercourt
(0.432043)
All