April 2, 2010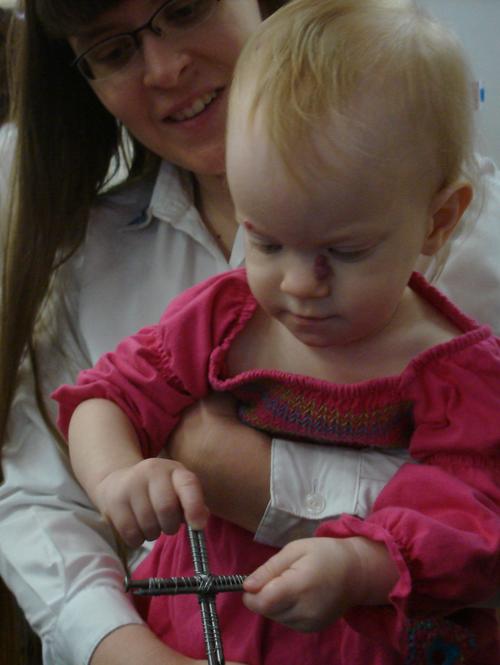 Church this morning was a special family service inviting all children to come forward and make a special craft. We decided Elizabeth is old enough to go forward with Mommy, aided no doubt by a desire to work off the fidgets a certain small girl was struggling with. The craft consisted of tightly wrapping wire around several sets of sharp nails, so while the older kids worked on it we met Bishop Don instead. Auntie Janice put together a cross for Elizabeth, so she got to have one in the end. But not to eat, despite her best efforts!
In the afternoon I decided it was time to keep working on my New Year's resolution, so Elizabeth and I headed out to the Canadian Agricultural Museum for their special Easter programs. Auntie Yukiko and cousins Erika and Maria came along. You may remember we visited the barns last December, but this was the first time we'd been to the museum when it was open. Visiting the barn was pretty fun but going during this unseasonal summer weather was even better!
Elizabeth wasn't too sure about petting the lambs but she was definitive about petting the baby calves (TOO SCARY MOM!). They were pretty friendly, sucking and licking any hands or knees within tongue distance. Elizabeth enjoyed hearing the animals baa and moo though. She also loved seeing the bunnies and playing in the indoor play area in the bee exhibit. Erika's favourite part was probably the fantastic outdoor play structure. Maria's was the snacks I remembered to bring along. I'm firmly in the "the snacks for a successful outing" camp now. All three kids enjoyed the Easter Egg hunt, although the babies liked eating the plastic egg photos more than "hunting". Unsurprisingly, Elizabeth approves of chocolate Easter eggs.
1
On April 12, 2010 at 07:39 am
Marie Smith
said:
Wow! You are doing great with visiting all the museums.
You might also like
- Cows
(0.43254)
- Children's Museum
(0.404647)
- Logan Hall
(0.402855)
- Family Day
(0.399485)
- Cumberland Heritage Museum
(0.399027)
All