December 7, 2019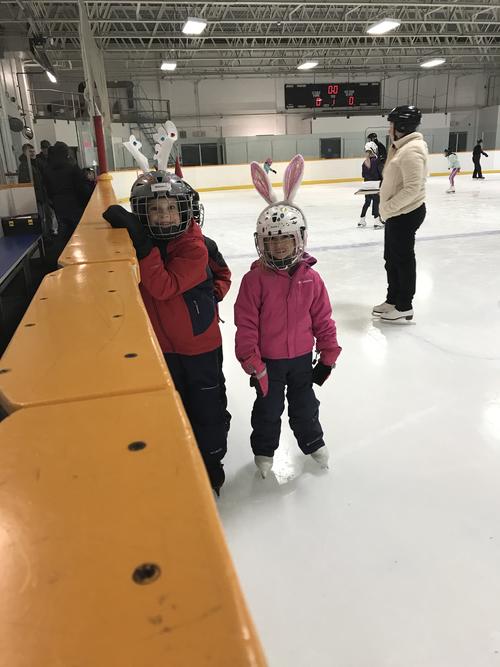 Amelia and Matthew took skating lessons right after swimming, which meant that we spent ten minutes hanging out underneath the dryer to make sure they had dry hair and didn't freeze and then drove from Dovercourt to St Laurent every week. Sometimes we stopped at home and Daddy took them to skating (but Mommy did ALL the swimming supervision) We scheduled an hour between classes and I was worried it was too tight but actually it worked out pretty well.
Amelia and Matthew made amazing progress in their lessons. Amelia went from shuffling around on the ice to passing the first two kinderglider levels. This is particularly amazing because her teacher was useless and that's being generous. Luckily the head instructor helped out a bunch, but Amelia spent significant portions of her lessons sitting on the ice instead of skating and one lesson she actually left the ice surface altogether without the teacher noticing (let's just say the teacher did not generally manage to capture Amelia's attention).
Matthew's teacher was great and actually paid attention to various kids. Matthew was more advanced than many of his classmates so she gave him quite a few extra things to work on. I wondered the first class whether he should have been sorted into the high instead of the low - he was kind of borderline - clearly one of the weakest "high" kids and the strongest "low" kid. Since he hadn't skated at all for quite some time (we took last winter off from lessons) I wondered if he was well placed but his teacher was so fantastic and he learned so much that we stopped worrying about placement early on.
He too passed more than one level - in his case he's about halfway through junior gliders. I suspect he's going to catch Elizabeth soon if he continues.
You might also like
- Matthew's first skating class
(0.445493)
- Skating
(0.437431)
- Virtual Piano Recital
(0.42779)
- Fall summer
(0.423747)
- Virtual school: Week 3
(0.422326)
All