April 4, 2010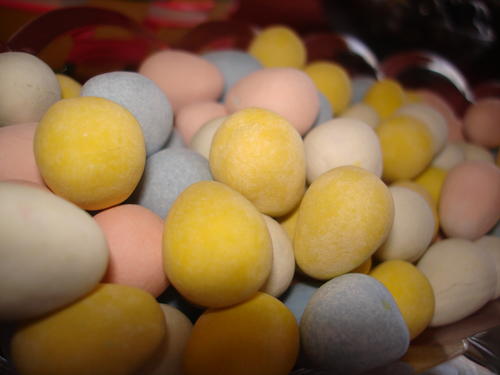 Happy belated Easter! Although I didn't actually get around to posting this until today (Wednesday), I've decided it just makes more sense to put the pictures closer to or on the date they were actually taken.
It's our Easter tradition to decorate eggs using Ukrainian wax techniques and natural dyes, but this year we decided that it would be easier for the kids to help if we allowed them to paint with food colouring instead. I still dyed a bunch of eggs with tumeric, cabbage and onion skins but we allowed Erika and Elizabeth to add their own personal touches.
Elizabeth's eggs were surprisingly beautiful, with lots of colour and many brushstrokes. Erika was much more precise and serious about her paintings. Each one had a specific picture and only one colour painted per egg. She especially liked painting the eggs that were already coloured.
Afterwards we made hot cross buns. Elizabeth helped crack the eggs and Erika did almost everything else, including carefully painting each bun with egg white.
Easter Sunday we enjoyed the 5 minute Easter story and the rest of the service too and then went home for Easter lunch with Uncle Dave, Auntie Karen, friend of the family Geoff G, Uncle Chris, Erika, Grandma and Grandpa J, our tenants Jesse and Ray, Auntie Janice, Brendan, Elizabeth and me! Maria was not feeling her best so Auntie Yukiko stayed home with her. The whole family is leaving for Japan on Wednesday and wanted to be sure all are healthy before then!
Then we celebrated Erika's fourth birthday with a brownie strawberry cake. I thought we had loads of pictures but they must be on someone else's camera (Dave?). Sadly our brief period of good health then came crashing to a halt. I'd started feeling unwell after a run-in with someone's strong perfume during church and by evening Easter Sunday I was definitely sick. Elizabeth and I have spent the last few days barking like seals.
1
On April 12, 2010 at 07:37 am
Marie Smith
said:
Hope you guys are feeling better already! We've been attacked by polllen down here!
You might also like
- Happy Birthday
(0.423398)
- Good Friday 2015
(0.4211)
- Good Friday
(0.40691)
- A shower and the Great Glebe Garage Sale!
(0.405546)
- Social Distancing: Day 20
(0.402335)
All