December 28, 2019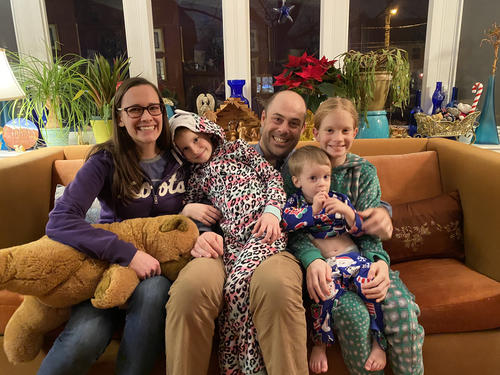 We drove down to Wellesley for our extended family Christmas, stopping at Auntie Muriel's house on the way where we got to visit with cousins and Lauren and Donna and Ryan and Rebecca. Amelia was not feeling too good; she had a cough and a fever and I actually checked with her doctor the day before to see whether we ought to cancel our trip. We got clearance to travel - just no food sharing, wash hands frequently and stay away from the baby!
By the time we got to the church for dinner though Amelia was feeling rather rough and I ended up spending most of the evening cuddled up with her in a separate room. Oh well! Her body temperature at one point dropped super low (35C) so she really appreciated her hot water bottle from Christmas that she had insisted she HAD to bring along with her. Of course after an hour or so she was right back up (39.4C) Poor Amelia! The other kids had a blast playing with cousins and eating all the yummy food.
Elizabeth randomly lost a molar (her first!). As one does. She agreed the tooth fairy could come later.
We then went back to Auntie Mary's hippo house to sleep. We all wished we could have stayed longer, but there was a storm rolling in so we drove back to Ottawa directly the next day instead of stopping at Muriel's again as planned.
You might also like
- London
(0.387376)
- Family Day
(0.37931)
- Auntie Muriel's
(0.377868)
- Good Friday 2015
(0.377202)
- Happy New Year
(0.374817)
All