January 25, 2020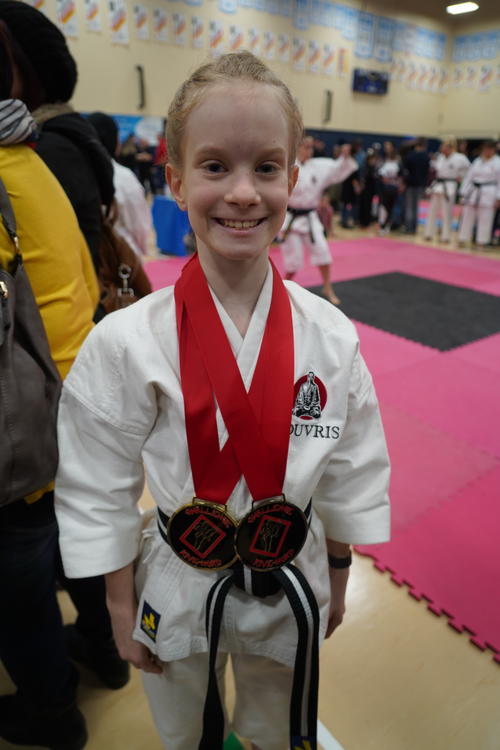 Today was the first karate tournament of 2020 and also Erika's first real tournament. There was some debate about going at all as there was a large snow/freezing rain storm forecast for the afternoon. After some debate we decided that we should be able to make it back before it hit. The girls and Yukiko all carpooled with Daddy to Montreal bright and early in the morning. Yukiko and Erika were both amused by the amount of French/lack of English.
First up was Elizabeth in traditional kata against 6 other kids including at least three from the host organization Sunfuki, two private students of sensie Suba and one wearing a Canada gi. Given that Sunfuki tournaments are known for a certain bias towards their own students we were absolutely blown away to see Elizabeth come in 2nd. Immediately afterwards she was up in classical kata. As there was no 10 and under classical category she competed up into the 11-12 category. Facing again 6 other very good kids daddy had double check to make sure the scores he saw were really Elizabeth's when she placed 1st! Elizabeth's kata has clearly made some amazing progress and she absolutely rocked it. As Elizabeth was getting her gold medal Erika was up in traditional kata and when daddy got over to take some photos he immediately realized that something was not right. Erika was in a line of all black belts other than herself. Since she's a brown belt there shouldn't have been any black belts in her group. Too late to switch as her real division had already finished we let her compete in the black belt group. Luckily her real sparring division hadn't gone yet and she had time to run over to it instead. She still got demolished by a super talented girl but we're sure it was less of a beating than she would have received if she'd gone up against the black belts... In the end she got a silver medal as she drew the lucky 3rd spot out of three girls. Then Elizabeth had her sparring match with 5 girls and would have been in a good position except that she drew the one giant monster kid in the group. This kid was easily double the weight if not more of the smaller girls and while Elizabeth managed to defend herself (if not score points) the smaller girls got absolutely beat up by this kid. It was to the point that both coaches (including her own) and the ref were telling her to go easier and she continued to wallop the other kids. Daddy was genuinely concerned that some of the other kids were going to get injured and felt that they should have disqualified her for failing to listen. Anyway a bit of a downer on an otherwise stellar tournament for Elizabeth. Her first silver and gold in a real tournament!
The girls then yakked all the way home and can't wait until the next opportunity to do it all again.
You might also like
- WKC Nationals
(0.460232)
- Nationals
(0.440236)
- WKC World Championships
(0.434109)
- WKC Provincials
(0.419495)
- Burlington
(0.419414)
All