January 29, 2020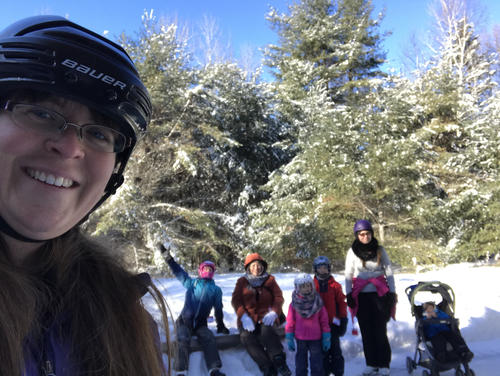 As per tradition, I pulled the kids out of school one day this week to go skating at Lac des Loups with Angie. Auntie Janice was able to come along too and I even brought Michael, though I only considered after we arrived that I didn't have a helmet for him! He was strapped into the stroller though so was safe enough. The ice was gorgeous and it was a beautiful warm sunny winter day. Glorious skating. Janice skated ahead with my older two and I skated at Amelia's pace. Janice, Elizabeth and Matthew ended up skating about 10km apparently around 9km/hour. I skated quite a bit less but I still had fun. When Michael was done sitting in the stroller we went in for lunch.
One thing that's new this year: indoor toilets! Big improvement!!
We had hot dogs and chili and hot chocolate for lunch (well, I had a sandwich). Janice brought a hot meal but somehow left it behind and had to drive to Wakefield later to retrieve it.
Then we skated some more. Amelia and Michael weren't going out again but then they changed their minds and had another short skate before we had to leave.
The kids already want to know when we can go back!
You might also like
- Lac des Loups
(0.428994)
- River Oak
(0.409857)
- Skating on the Canal
(0.393568)
- Bogonning
(0.388166)
- Party Day
(0.385781)
All