January 31, 2020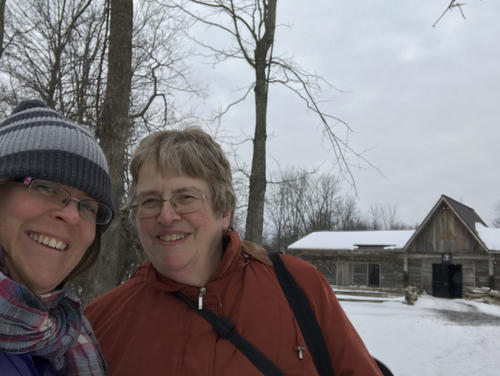 The canal has been closed all week due to the snowstorm that came in when Angie arrived. It reopened today, but the ice is listed as "poor" so we decided that instead of going skating on the canal we'd try out another forest skating place near Ottawa.
River Oak is much closer to us than Lac des Loups (about 30 minutes instead of an hour), so I was a little concerned that we might default here instead of returning to Lac des Loups (which I adore). Turns out there is no danger of that.
I'm not sure how the ice stacks up usually, but Angie and I both felt it was not nearly as well maintained as Lac des Loups. I overhead the owner talking about how they get the ice made when we arrived and he apparently makes the trails bigger and longer all through the season. His claim is that the ice improves the longer they are open. I wondered if they might be better off with a smaller ice zone that they can spent more time on, because aside from a small section the ice was fair at best. Lots of ripples and bumps across the surface and coupled with the significant elevation I was super uncomfortable. I did skate the whole surface (but only up the biggest hill, too chicken to go down it). Angie did a bit of skating around near the entrance but found the ice quality too poor to really want to venture far. There was also a distinct lack of seating (something that lac des loups does very well and we'd taken for granted). I'd definitely not recommend this place for beginner or uncertain skaters.
That said, it had a very funky vibe and encourages hockey players and shinny. The trails lead to several little hockey rinks in the woods which were surprisingly full of kids playing hockey given it was a weekday in the middle of the afternoon. The bathrooms are outside but heated and full amenity, and while we didn't check out the food trucks they had food and it smelled good.
I think that Elizabeth, Matthew and Janice need to go check out this place - I can see them having a real blast. I'd be willing to go back another time, but I'd take Michael in the stroller or call ahead and see what they say about their ice as I'd have more fun if I wasn't visualizing the rest of my winter in a cast!
Angie and I have decided that we will go back to Lac des Loups next year, and we'll also check out one of the other forest skating places that keep popping up. After all, we can't form a proper opinion without trying them all...
You might also like
- Calypso
(0.450433)
- Social Distancing: Day 3
(0.444043)
- River Oak
(0.439443)
- Hike in the woods
(0.438114)
- The Big Clock
(0.437233)
All