January 30, 2020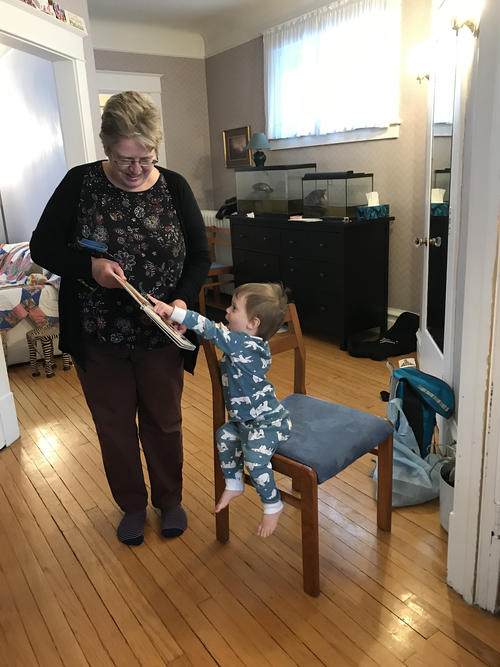 Angie is here again for her annual visit (the one in October was a bonus!). The kids are all very excited.
We had Karen and Dave and kids and Janice over on Saturday evening (no photos but I swear it happened!) and Lorianne, Chris and Yukiko and the girls tonight.
Elizabeth made a chocolate cake and fish on Monday because she wanted to make something "good" in honour of the visit.
We pulled the kids out of school a little early this afternoon for a trip to the toy store. It's always amusing to follow them around in a toy store and see what catches their eye. Michael saw a robotic elephant and immediately declared it his (ironically something Elizabeth has wanted for years and we never could find). It walks and trumpets and he loves it. Amelia hung around in the Barbie section for a few minutes before settling on a Barbie with baby horse. Then we watched Matthew dither. He considered hot wheels and tried to talk his way out of the "nothing that flies" restriction. We evaluated a shooting toy ("Won't he use that to torment siblings?" asked Daddy. Matthew: "Well...") He feels he has enough Lego. Finally he saw "spy stuff" and settled on a motion detector alarm. It's very noisy but he loves it so we are putting up with a certain amount of sirens at the moment. Elizabeth was the last to choose. All kinds of toys and games and she ended up choosing between a make-up kit or smelly, sparkly hair chalk. She must be a tween! We were a little surprised to discover at home that the make-up kit is actually for drawing make-up designs on paper. She's having fun doing that and I'm a little relieved that she's not experimenting with eyeshadow just yet...
You might also like
- Family Day
(0.399816)
- Good Friday 2015
(0.399809)
- Social Distancing: Day 20
(0.395713)
- Home
(0.392548)
- Welcome 2019
(0.3879)
All