March 2, 2009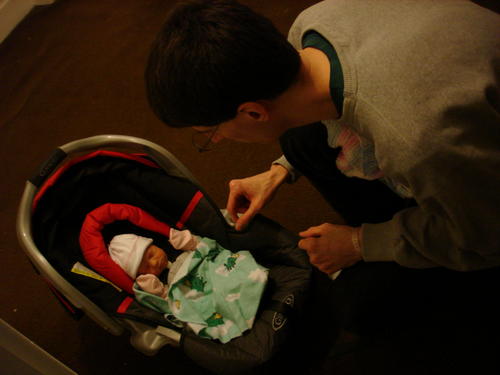 Last night was absolutely brutal \\u2013 I slept less than an hour total. Elizabeth was just starving and crying every fifteen minutes to be fed. Night nurse Kim spent a good portion of her shift helping me with the latch \\u2013 Elizabeth would latch on, then spit out everything but the nipple (ouch!). So then Kim would release the nipple and we\\u2019d try again. Over and over and over and over again. I am really sore today. As soon as Elizabeth settled down to feed, she\\u2019d suck for five minutes, and then fall asleep. Fifteen minutes later...
The ward was really noisy last night as well. A new patient was admitted sometime in the wee hours for monitoring of some kind involving a loudly beeping machine.
Brendan and I are thinking about asking whether we can go home today \\u2013 another night like that might be fatal. On the other hand, I don\\u2019t know what we will do without the support of the nurses. The other complication - Elizabeth is getting sleepier and she is not sucking very vigorously. Day nurse Joanne is concerned because Elizabeth has lost 9% of her birth weight and her breastfeeding is entirely non-nutritive. It\\u2019s time to get concerned when babies lose more than 10% of their birth weight, so it\\u2019s not a panic yet, however, Elizabeth is on the small side to start with and she will soon be below 10% if something doesn\\u2019t change. In addition, milk usually takes a bit longer to come in after a caesarean, and non-nutritive sucking doesn\\u2019t stimulate the milk glands.
The lactation consultant is fully booked this morning, so day nurse Suzanne came to help us figure out a solution in the meantime. We were grateful that she wasn\\u2019t pushy at all \\u2013 she told us that she\\u2019d start talking to us about options and we should let her know when we heard something we could live with. She says that after watching Elizabeth in action, she looks frustrated and is giving up when she doesn\\u2019t get any nutrition. She suggests that we use a pump to help stimulate the milk glands. In addition, she would recommend some formula supplementation because often just one or two good feedings are enough to get a baby interested again and it will likely take some time to pump as much milk as she should have to stop the weight loss, as well as a bit of time to locate a pump!
Since we want to breastfeed, she recommends using a lactation device (essentially a tube and a syringe) at the breast instead of a bottle. As we get milk from the pump, we can then replace the formula with breast milk. I had really wanted to avoid formula (particularly due to concerns over whether it was gluten-free or not), but ultimately we decided to go ahead as suggested. It\\u2019s made a huge difference \\u2013 Elizabeth is much more alert and we\\u2019re both calmer.
Another dietician came by today to talk to me about the menu. She\\u2019s going to write up a report since the pineapple mix-up of yesterday is so embarrassing. She checked lunch for me (and crossed off certain menu items). Unbelievably, supper is \\u201cHawaiian Pork\\u201d \\u2013 it is marked gluten-free though! Mom went charging off to see the nurse who is quite shocked. They looked at regular meals, but they have buns and gravy etc and are therefore completely inappropriate. Luckily I have my own food or this would be quite stressful! It turns out that someone in the kitchen sent the wrong dish (again) \\u2013 apparently they are not very good at handling multiple allergies. It\\u2019s very amusing but terrifying at the same time. I do feel this isn\\u2019t going to be swept under the carpet \\u2013 my outrage is shared by the nurses.
Dr. Gravelle also came by and is very pleased with my progress. As far as she is concerned I can choose to go home tonight or be released sometime tomorrow. It\\u2019s up to Jessica the midwife and Elizabeth now.
You might also like
- Home again, home again
(0.464697)
- Umbilical hernia repair
(0.455204)
- Doors Open Ottawa: Dogs, Trains, Buses
(0.443439)
- Its a girl
(0.443077)
- École LaGlace
(0.44154)
All