February 12, 2020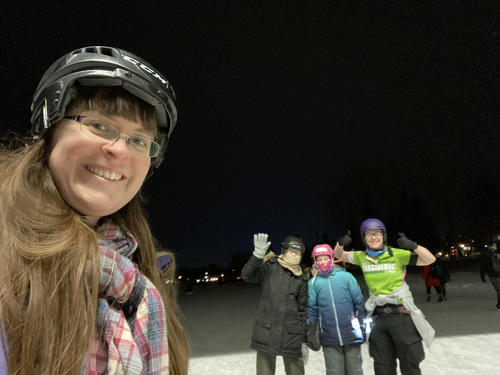 Erika was coming for a sleepover and I asked if she and Elizabeth wanted to go for a late night skate on the canal with me.
They thought this would be fun so off we went. We met Dianne and her kids at Patterson creek just getting off the ice after a skate with Aidan's cub troop. Apparently they had just called for first aid for someone under the bridge who had blown out their knee. Sure enough they were still there getting loaded onto a stretcher as we went by.
The ice was a bit soft and it was quite dark. So when we got to Fifth and there was another body on the ice right in front of the Beavertails I decided perhaps we'd just have a treat and then head home; no sense in risking broken limbs!
You might also like
- On the canal
(0.380328)
- Skating on the Canal
(0.373898)
- Matthew on the canal
(0.358268)
- Canal
(0.358209)
- Happy Birthday Janice!
(0.357357)
All