February 11, 2020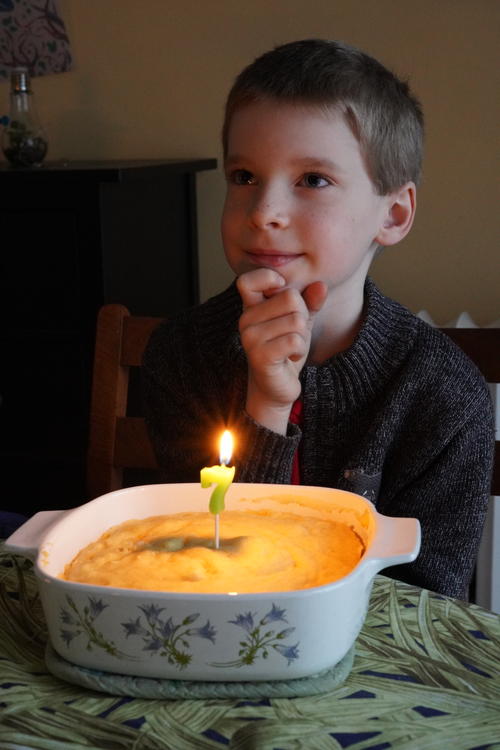 At seven, Matthew is tenderhearted, enthusiastic, boisterous, exuberant, cuddly and loud. His love language is definitely physical touch. He loves creating recipes in the kitchen and putting things together. Actually Matthew enjoys any kind of building toy, especially Lego, but lately feels that he'd prefer to do more "mature" projects. He'd particularly like to be allowed to use his tools to "make things" in the garage by himself.
Seven likes to be independent and thinks he's quite grown up now. He likes to show that he can do grown up things and is frustrated by limits if he doesn't understand and agree with them. He frequently won't ask for help if he thinks that help isn't something a "big kid" would need.
At the dinner table his manners have improved. His use of utensils does have room to improve and it would be nice if he would STOP POKING his siblings. Also, if he wants something he tends to just get up and get it without asking. One memorable moment recently: he objected to dinner, so started making himself an egg. On the other hand, one time Elizabeth made (and badly burned) dinner. She was visibly upset about it. Matthew not only ate what she made without complaining but went out of his way to find nice things to say to Elizabeth.
He can lack focus on the things that don't interest him. He has a fairly short attention span for most things, but if he is interested he's very very interested.
At school Matthew is still a great help and was picked to be in the 1/2 split class because he's calm, a strong student and a "smiley ray of sunshine" every day. He's great in math and his reading is coming along, though he does rely very much on his memory. His french has improved a great deal as well. He has lots of friends, but relatively few close ones. His favourite playmates tend to be a year or two older.
Seven can be remarkably fearless as he doesn't necessarily stop to think about the consequences of what he's about to do. He still struggles with anxiety but his ability to cope has improved significantly. We've found the Hey Warrior book extremely helpful.
Matthew loves swimming and skating and was very excited to start shinny this winter as many of his friends play hockey. He doesn't like feeling left out. In addition to shinny, he desperately wanted to learn how to do both kinds of skiing this winter. He's the main reason we got cross country skis this year. Matthew's also taking piano, karate and violin classes. He's not fond of the piano but is more or less keeping up with expectations. Getting him to settle down and practice is difficult, but once he starts he does a great job. Mommy is still better than he is but it's getting close!
Matthew often doesn't want to go to karate, but also doesn't want to quit. We're unsure whether he enjoys it or not. He doesn't seem to have great aptitude for kata as he's often distracted and sloppy, but his sparring is definitely coming along. I certainly wouldn't want to fight him as he is very aggressive and strong. We've told him that our rule is that he can't quit five minutes before class, but he may otherwise quit at any time. At the moment it sounds like he plans to get a black belt and then try something else. He'd also really like to be a red leader.
Matthew adores his violin classes and desperately wants me to rent him one to practice at home. I do not wish to supervise any more music lessons at home and the teacher doesn't allow students to practice at home until they get to a certain level so for the moment he has to make do with lessons at school.
Matthew is a terrible tease and enjoys winding up his siblings. He fights the most with Amelia, but they are also probably the closest. When they aren't fighting they are best friends. Matthew is a great big brother, at least when he isn't teasing.
Overall, seven is a sweet, pretty happy not-so-little boy with many ambitious plans. We love his enthusiasm and can't wait to see what he'll get up to this year.
You might also like
- Homeschool wk may 11-15
(0.482527)
- Eleven
(0.481791)
- Matthew turns 8
(0.479056)
- Child Labour
(0.478014)
- Birthday five
(0.475291)
All