February 29, 2020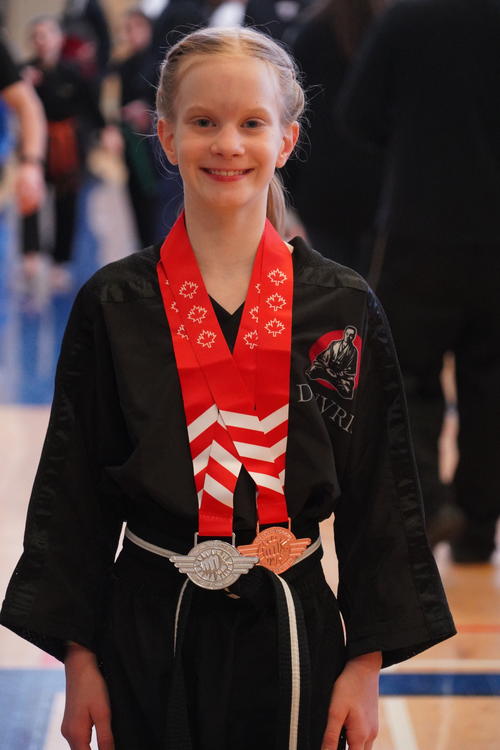 Being at the top of her age bracket and being on the light end of the sparring divisions Elizabeth actually has a pretty good shot at making the Canadian national karate team and getting to go to the world championships in spain this year. Given this and the accelerated schedule due to the Worlds being in August instead of November this year we decided that she really ought to compete in the only Ontario tournament before the provincial qualifiers to see what sort of competition she's likely to be up against. The only problem was that this was on the 29th in Burlington which would mean she would need to travel on her birthday. Now that's another post...
Anyway having gotten to Burlington we realized that there was a secondary flaw in our preparation which was that being February (which is always insanely busy around our household what with birthday's and winterlude and other general craziness) Elizabeth had missed a number of training sessions and had done very little practicing at home. So of course upon arrival she had a complete fit of nerves. Luckily her division was tiny (just her, Remy and one other girl she's seen a few times before).
After being told that no she could not opt out after daddy having driven many hundreds of kilometers to get her there she did pull it together enough to compete. It was however not her finest performance and she got the bronze in kata. She then went to change for sparring but forgot that her sparring gi was in the suit bag and had to come back to get it and thus was rather slow in appearing for her match. Now we don't know if this worked in her favour or if it was just luck but they decided to start with the other two and Remy won that match leaving Remy and Elizabeth to battle for gold and silver. Remy beat Elizabeth for the gold, leaving Elizabeth with the silver. So despite coming away with a silver and a bronze it was definitely not Elizabeth's best showing, but she got over the nerves enough to compete and that's a big win. She then had a blast cheering on her teammates and cousin.
Erika has improved a fair bit in kata but is still doing a green belt kata so had little hope against 17 other kids. Her sparring however was the big wow of the day with her scoring points in her match against the eventual gold medalist. She clearly learned a lot in Montreal.
The girls then had a grand old time in the back of the van for many hours on the way home.
You might also like
- WKC World Championships 2022
(0.448639)
- WKC Nationals
(0.445761)
- WKC Provincials
(0.445662)
- WKC Worlds
(0.438835)
- WKC World Championships
(0.434657)
All