February 27, 2020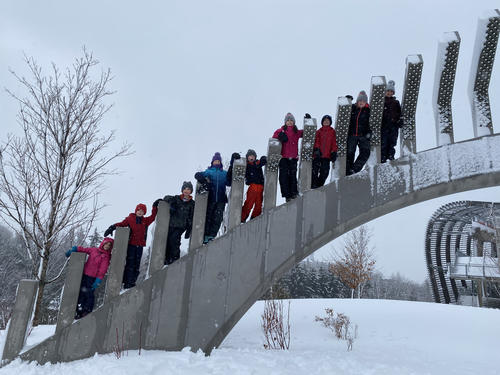 We were all set to go to Vorlage with the biggest ski club yet and three carloads in lieu of an impeding strike... and then a snowstorm rolled in cancelling strike and busses.
I decided that we would take the snow day and ski anyway. Then I looked out the window. The snowflakes were HUGE. Bigger than my palm huge. It was pouring the wettest flakes you can imagine. A flurry of texts later and despite the disappointed kid pleas to go anyway we decided it just wasn't safe. I was worried about the drive home from the ski hill, and thought that while the first hour or two would probably be fun, the rest would be soaking wet and miserable. This was not my idea of fun, nor did it seem like a particularly good day to introduce Matthew to downhill skiing.
So… we went tobogganing at Landsdowne instead. Amelia liked this plan, because she got to come along. I kidnapped Bianca and Nico. Lise-Anne brought her kids Adi and Tristan, along with twins Harry and Shaughnessy. There was sledding and not entirely sanctioned climbing (we declared a height limit). There was fort building and giant snowman creating (and destroying). Great fun was had by all.
You might also like
- Sledding
(0.364882)
- Ski Club 4
(0.356232)
- Boxing Day Sledding
(0.355634)
- 12 Days of Christmas: New Year's Eve
(0.354067)
- LRT Grand Opening
(0.35309)
All