February 27, 2020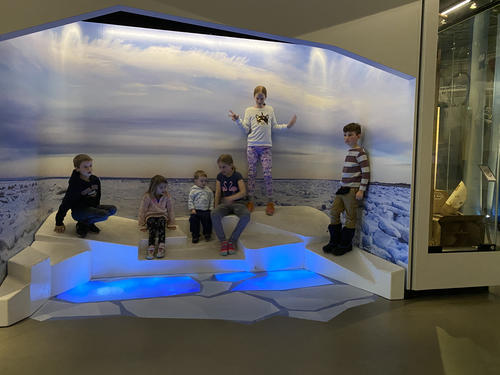 After the sledding adventure of the morning and a quick lunch at home, I took Bianca, Nico, Elizabeth, Matthew, Amelia and Michael to the science and tech museum.
Bianca needed to stop for lunch at the cafeteria, so the older girls went to the cafeteria and I took the rest of the kids to the tinker lab. Matthew probably could have stayed there the entire visit. They had materials for building and balloons and elastic propellers as an engine. The idea was to build a vehicle and see how far you could make it move. Unfortunately there was a shortage of intact balloons which limited our ability to succeed but we had a good time trying.
There were magformer blocks too for the littler kids. Michael was very interested in the balloon pumps, but his favourite part was probably the laser cutter that was busily chopping up cardboard for a program. "Fire!" he said. The 3D printers were pretty neat as well.
We visited the Zooom room with its climbing wall and bike racing stuff. They even checked out the baby area with Michael (we practically had the museum to ourselves, so I let them ignore the age limit signs). Then we went on to the crazy kitchen. Michael thought it was hilarious.
On our way to visit the trains (CHOO-CHOO Mommy CHOO-CHOO) we discovered the loudest part of the museum. An exhibit all about sound which ironically includes a "quiet room". I will warn you that the quiet room practically begs children to make as much noise as they can. It was really fun, but strangely I encouraged the kids to move on after only a few minutes.
All too soon it was time to head home.
You might also like
- Great Glebe Garage Sale
(0.405813)
- Car Exhibit
(0.390756)
- Dovercourt
(0.387855)
- River Oak
(0.383234)
- Butterfly Adventure
(0.383169)
All