February 28, 2020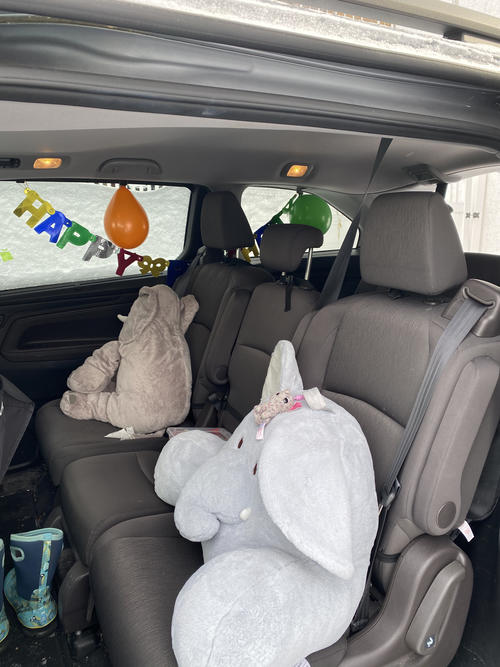 Elizabeth had initially been unsure about whether she wanted to do a karate tournament on her birthday weekend but it's the last chance to compete against Ontario kids before provincials so ultimately she agreed it would be a good idea.
We started her birthday out normally at home with our birthday breakfast feast, although I did allow birthday cupcakes for breakfast since we weren't going to have cake later (!) Actually the birthday breakfast was slightly more elaborate than might otherwise have been allowed since it wasn't a school day and since I wasn't going to see my baby for the rest of her birthday! (sniff, sniff)
Although Elizabeth does like road trips, I thought it would be fun to make this one extra special. It worked out well that Erika and Yukiko were coming along for the ride.
In the morning I decorated the van using birthday window clings and balloons. It was sort of a last minute idea but I was pleased with the way it turned out. Elizabeth brought along a hoard of stuffed elephants which I thought helped complete the decorations nicely.
Matthew and I acquired a number of small gifts the night before (eg. t-shirts, some dresses, some pants, leftover Halloween candy and tic tacs). Brendan and I also had planned to give Elizabeth a watch, which is something that she's been wanting since her last one self-destructed. I wrapped each of the eleven gifts into eleven different packages and then set eleven timers on her iPod approximately every half hour with a break for lunch. We let her go to a restaurant for lunch instead of packing food - and she got to pick the restaurant (Tim Horton's). Each timer had a memory or something that we liked about 11 year old Elizabeth and it was pretty amusing to write.
Anyway I had fun doing it and apparently it went over well so it was worth it.
You might also like
- River Oak
(0.406606)
- Virtual school: Week 4
(0.404534)
- Broken nose
(0.40297)
- Halloween
(0.402372)
- Halloween
(0.401274)
All