March 12, 2020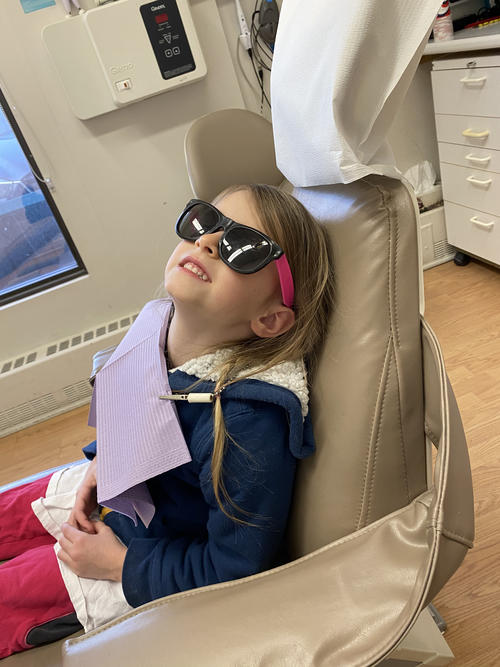 When I called to schedule dentist appointments for the middle two, at first they wanted to schedule it during March break. We were already thinking we'd be staying close to home soon, so I asked if there wasn't anything this week. Turned out they had a slot on Thursday and since they are both kids and it was Amelia's first visit they decided to book both of them in. Long story short I picked the kids up from school and Amelia had her first dental cleaning today!
Amelia was very much looking forward to going to the dentist - I can't imagine that she recalls her last visit since she would have been Michael's age but I was a little less excited. Neither Amelia nor Matthew do a great job of brushing or flossing and we've been slightly less than 100% diligent at checking up on them.
Amelia insisted on going first, and she was GREAT about opening her mouth. Actually the hygienist Lorna commented several times how amazing she was at opening wide.
Matthew was a little more nervous (he is apparently fully aware that he doesn't always brush his teeth well) and we knew going in that some of his gums were not in the greatest of shape. His teeth are also a weird shape and really hard to get clean. I was fully expecting him to have some kind of cavity but turned out he's done a good enough job for now. He was excited to get an extra toothbrush to help him clean his extra deep molar cavities.
Amelia unfortunately does have a small cavity developing on her front two teeth that will need extra attention for a while, but it's unlikely they will need to do anything about it before they fall out. So it was good news for us all around.
The kids were super excited to get to the treasure chest and pick TWO items, on top of the floss and toothbrushes. Amelia picked a ring and a rubber donut, while Matthew picked a gummy spiderweb and ?
They would like to go back very soon. I guess we won't wait two years, if only because we would like Michael to observe a visit prior to his first time. We would normally have brought him along but under the current circumstances we weren't comfortable doing that.
You might also like
- Virtual School: Week 37
(0.426485)
- River Oak
(0.423945)
- Home
(0.421373)
- Music
(0.415888)
- Virtual School: Week 20
(0.4115)
All