March 18, 2020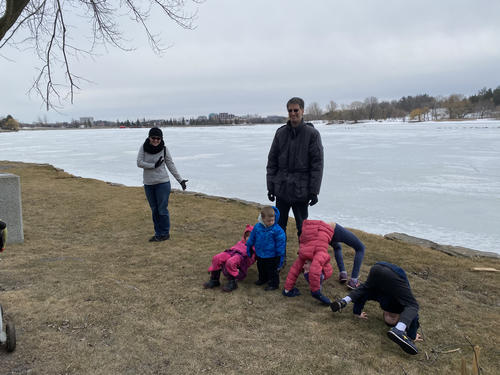 We're still working out exactly what our schedule will look like - we like structure but also variety.
Matthew complained today that he gets more outside time at "real school". That would be time where "[he] can play outside rather than dodge around other people" so I've promised to try and figure out some playtime slots. The kids normally like to go and chat with people, so we feel they need supervision if they are playing in the front yard. That makes scheduling tricky because I'm ALSO trying to find time to stay employed and get things done.
Wednesday mornings we usually have house group and this morning we had our first virtual house group which was super encouraging. The video conferencing thing is actually working pretty great, although we did have some technical glitches in the form of my battery dying on my phone while I was hosting and then I couldn't remember my zoom password. During house group Elizabeth ran another acro "class" for her siblings. Michael even participated for about an hour before he decided he was done and came to hang out with house group.
Amelia and I are getting into a bit of a groove - we're playing games with numbers where she gets a number and has to build it with the manipulatives or I build a number and give her some options and she has to figure out which is the right one. I plan to break out the board games at some point but am waiting until I get Matthew onto the next unit as I'm sure he'll want to join in. Last summer I found that Elizabeth felt Matthew's work was way too easy (UNFAIR) and Matthew thought he might like to help do Amelia's work. Strangely this is still true so lessons tend to run with kids in physically separate rooms so that they can concentrate on their own work.
Aside from science with glitter germs the big excitement today was going for a walk with Auntie Janice late afternoon "together but apart". It was also Brendan's first time out of the house in a couple of days and he concurred with my assessment that some people are taking the social isolation part of things much more seriously than others. This is quite annoying if you are trying to take a walk but stay 2m away from other people and the kids definitely don't enjoy having to zigzag all over the place. It was a pretty nice day and there were SO many people out on the recreational paths. Manageable for the moment, but when it gets really nice I think it will be too crowded to be considered responsible unless we pick a less popular time. Also Commissioner's park will become impassable by stroller for a few weeks shortly due to the melt I expect - I was wading in pretty deep water at one point.
1
On March 24, 2020 at 02:26 pm
Grandma Henderson
said:
Hugs to you all! Sounds like you are figuring it all out very nicely! What was that video about with them sneezing?
You might also like
- Homeschool wk june 15-18
(0.474026)
- Homeschool wk may 11-15
(0.473233)
- Elizabeth
(0.45777)
- Healthy Girl
(0.454148)
- Virtual school: Week 2
(0.454132)
All