April 24, 2010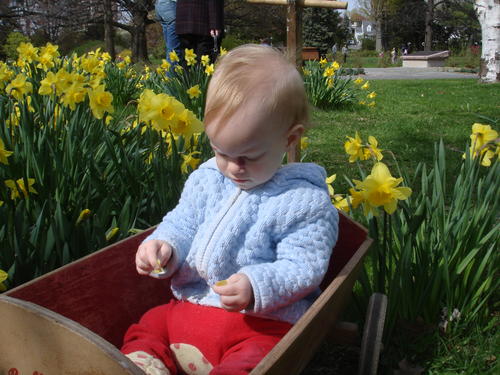 Elizabeth and I went for a little red wagon ride to see the tulips at Dow's Lake. She grinned all the way there.
Once at the park we attracted a lot of attention. "May I photograph your wagon?", asked one of the hundreds of photographers out in full force. Others waved, smiled and told Elizabeth how lucky she was.
One little boy rather wistfully asked me if I didn't think that Elizabeth was too small for it. I think she overheard him because she let go of the tulip she was holding, looked at me in the eye, and said "Done!"
I think "Done!" might be her favourite word. The way back home was a little more difficult because she discovered the back wheel midway at which point she was desperate to touch it, especially while it was moving. Then she was too hot and took off her sweater. Then she had to play peek-a-boo with the sweater and threw it on the ground. I promptly ran over it with the wagon, which was so popular that I ended up having to carry the sweater rather than leave it within arm's reach. Eventually I resorted to giving her bits of vegetation to investigate and throw overboard.
1
On April 25, 2010 at 00:11 am
Janice
said:
I love the side shot of Elizabeth with the tulips.



Would you email me the last picture? The one with the tulips, please. It is very beautiful.
2
On April 25, 2010 at 08:48 pm
Rachel@GraspingforObjectivity
said:
That is a precious wagon - how awesome! I love the pictures!
You might also like
- Wedding prep
(0.357341)
- Tulips
(0.356928)
- Orange swimsuit please
(0.353425)
- Ski
(0.353362)
- The birds and the bees
(0.351351)
All