March 20, 2020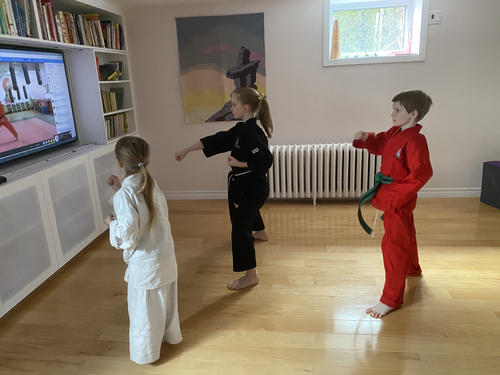 Starting to get into the groove of homeschooling, but Elizabeth has now completed all of the work assigned to her from school so I'll need to start actually planning lessons for her next week. It's still super unclear what the school board is going to do but we are expecting school's out until September at this point. I think the biggest challenge I have at the moment is ensuring the kids are speaking/reading/writing enough french.
This morning I decided to do a little history unit with all the kids about Nellie Bly, which the kids enjoyed very much. We also did some geography naming provinces and capitals and continents. Even Michael participated - I got them to name a province and then if they were right (or in Michael's case repeated correctly) then they got to eat a dried cranberry or raisin. This was very popular.
In the afternoon Douvris had a live karate class on Facebook. All the kids put on their gis - even Amelia who doesn't technically do karate yet but wanted to follow along. (No belt for her though!) Michael wanted to try too but that wouldn't have resulted in Elizabeth having a real class and she REALLY wanted to have a real class so he was banished upstairs. Amelia did really well for the first twenty minutes. Then they transitioned into a sparring class and while she gamely bounced along for a bit when they hit the half hour mark I told her she could go and play since a tykes class is usually only half an hour. Matthew had a horrible time focusing and spent a significant portion of the class flinging himself onto the couch, but he did participate. His problem is that he knows they can't see him. I resorted to filming him and threatening to send the video to his senseis. After the class there was a question and answer time and the kids were super pumped to be able to ask questions and hear them read back.
You might also like
- Virtual School: Week 20
(0.451524)
- Homeschool wk apr 20-24
(0.448304)
- Home
(0.444837)
- Social Distancing: Day 3
(0.441425)
- Virtual school: Week 4
(0.439618)
All