March 22, 2020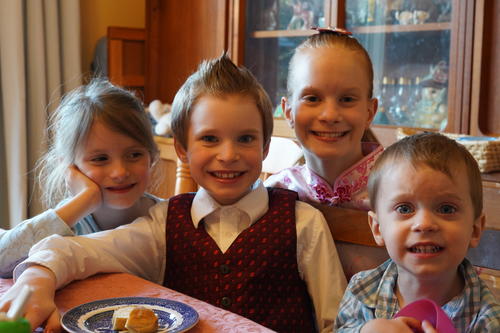 One of the last things on our winter list was our long anticipated winter feast. Since technically it is already spring and it is obvious that we are not going to be able to invite anyone to join us, we decided we'd go ahead with it this Laetare Sunday. A joyful Sunday seemed like as good a day as any!
First we had church-at-home and junior church on zoom and again it was really great. This week there was a baptism (Baby! Baby! said Michael) and music! Matthew was super engaged and so cuddly that I wondered if he was coming down with something. Elizabeth was cranky that her other siblings were playing with her kinetic sand.
Then it was time to work on our feast.
Starter (Hors d'oeuvre): Garlic Bread
Potage (Soup): Alphabet or green soup
Fancy Jello
Poisson (Fish): Cucumber, cream cheese and smoked salmon bites
Entrée: Chinese fondue with chicken
Sorbet as palate cleanser
Salades: Rooster salad
Fromage: Cheese platter
Dessert: Triple chocolate mousse bites
I had to substitute chicken noodle for the alphabet soup since the pasta was out of stock and our cheese platter wasn't quite as envisioned but otherwise we actually had everything we needed despite not getting to go grocery shopping for this specifically.
The kids were a bit overexcited but probably not as excited as I was about the jello. I've been waiting for a chance to play with my birthday present and this seemed like as good a chance as any. The kids even got to try their hands at it. More practice is definitely needed but the results were very promising.