March 21, 2020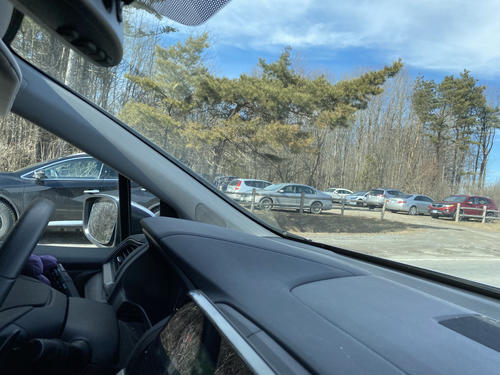 We thought we'd try getting groceries delivered. Our local Metro is no stranger to deliveries so we figured they'd be able to handle it. I've never ordered groceries online before so I was a bit worried about things like whether they would deliver mushy raspberries.
It turned out that was the least of my worries because due to food shortages we didn't get fruit. Or bread. Or bacon. Only one bag of milk (3 days worth). One bag of apples instead of three. One cream, not two. No yogurt. No alphabet pasta. In short, about half of our order didn't show up. Click and collect at Loblaws and most deliveries in our area are also now about a week out. So basically we need to go shopping again in the next couple of days. Oh well.
Then we thought maybe we could go for a walk on the greenbelt. It was a nice day, but Sarsparilla trail with the birds is a lesser known destination compared to Jack Pine. Yeah. Let's just say when we arrived, the parking lot was full. We pulled in to assess whether we dared get out of the car. The trail was a ZOO. While we were turning around, three more cars arrived. We drove a loop around all the various entrances to the greenbelt near there. Other places were so busy that cars were parked up and down the highway. It was very discouraging - at this rate the trails will get closed and then no one can enjoy them, but it was obvious that it would be impossible to social distance with that many people so we went home and played in the backyard.
Then the kids had various virtual live lessons all back to back to back. Elizabeth was first with a karate lesson, followed by Amelia and then Matthew with piano. I was pretty pleased with the karate setup as we got sensei Cody a side and front view. Not quite the same as being there but it was pretty good.
Our piano setup needs some work but we managed to figure out a workable solution and it will be even better next week.
In the evening Elizabeth was so tired she fell asleep on the couch while waiting for the other kids to go to sleep. She decided to go to bed early after that!
You might also like
- Social Distancing: Day 3
(0.43318)
- Ski Club 4
(0.427656)
- Hike in the woods
(0.416168)
- Dr Lynn is leaving :(
(0.4159)
- Ski Show and Douvris Halloween
(0.415295)
All