March 24, 2020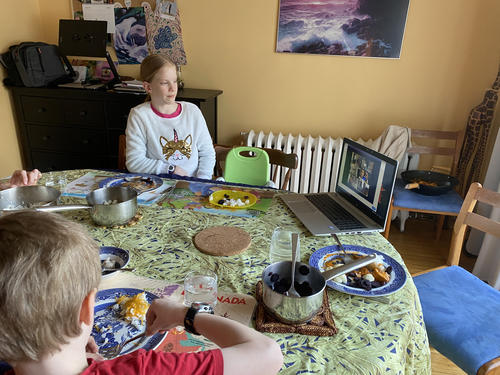 Probably what we're actually doing is closer to social isolation than social distancing, but this week is ALL about the setting up of virtual community and connections.
The schedule is now complicated enough that it needed to be written down a little more formally. I guess I'll post a photo when we get something more stable. This week is frustrating because we're still figuring out how best to balance work and homeschooling four kids. I'm really glad we've been "practicing" this, but we can't really afford to just let work slide the way we can when we normally homeschool in short spurts.
I need to keep reminding myself of the lessons from last summer, especially the one where I concluded that I simply cannot expect to get a quality one-on-one intense lesson on every topic in every day for every kid. There's just too many of them, and the age range is too wide to really expect everyone to be engaged in a group lesson. So we need to divide and conquer and be okay with some kids playing or having screen time while we focus on one child at a time.
Our local community center (GNAG) is doing virtual circle times so we logged on today and sang songs with Jason and showed off our favourite stuffies. Elizabeth had a violin lesson (sadly Matthew has no violin, so Elizabeth's going to get two lessons a week instead). We connected with Auntie Janice. There was another live karate lesson and Michael joined in too, briefly. "Yaya Karate? Beth Karate? Mahew karate? Me karate TOO!!!" Elizabeth had a ballet lesson and experimented with the best substitute for a ballet barre.
We went for a walk outside ("Not MORE zigzagging!" said Elizabeth. "I'm tired of zigzagging")
But the highlight of the day was a neighbourhood virtual zoom "dinner". It was super nice to catch up a bit with our neighbours. When this is all over, I think we'll have to have a neighbourhood feast!