March 29, 2020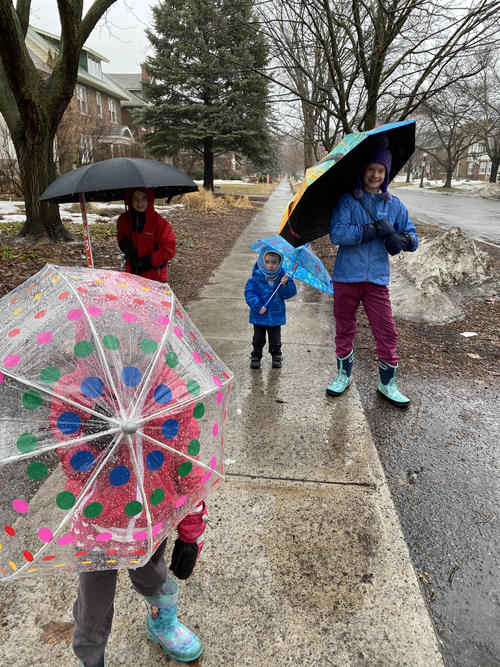 Our third Sunday in isolation and I have to say that I think I could get used to church at home. At least the part where I get to listen to the sermon every week and hold my husband's hand!
I made eight colours of play dough before the service for the kids to play with in addition to colouring their bulletins while they listened. This was very popular. Michael particularly liked stabbing his with a fork and growling.
Amelia somewhat wistfully pointed out that we used to have cookie time after church, so I even made chocolate chip cookies. We had them as dessert though, because by the time junior church is over it's lunchtime.
Junior church used breakout rooms in zoom for the first time to simulate small groups leaving. I was pretty pleased by how this worked, although I think there were still too many kids in the youngest group. In other news Matthew learned how to "steal" being the host from the liturgy leader. This caused a lot of confusion.
After lunch we told the kids they could each pick anyone to connect with. Amelia picked Auntie Janice, Elizabeth picked Erika and Matthew picked Auntie Mary. We had some lovely conversations.
Then I took the kids for a walk in the pouring cold rain. They (correctly) figured that no one else would be crazy enough to go out so they wouldn't have to duck and dodge. The observant will notice that Michael is not wearing boots. That's because he completely filled his boots with water on the LAST walk and they are still not dry. They squelched when they came off and water was streaming out of them.
After our (somewhat abbreviated) walk with the umbrella brigade, we came home for hot chocolate and marshmallows. Once we'd changed our wet stuff and warmed up a bit we settled down to watch Frozen II. I personally liked it better than the first one. Elizabeth had already seen it, so she told Matthew and Amelia when to put their heads under their blankets ("here comes another scary part! But don't worry, it's short!")

It was a pretty relaxing day. Elizabeth is definitely a tween now - she's started experimenting with different skin care regimens...
You might also like
- Easter Sunday
(0.419325)
- Social Distancing: Day 3
(0.417493)
- Virtual school: Week 5
(0.416313)
- History Museum
(0.414201)
- Pandemic Church
(0.411067)
All