April 4, 2020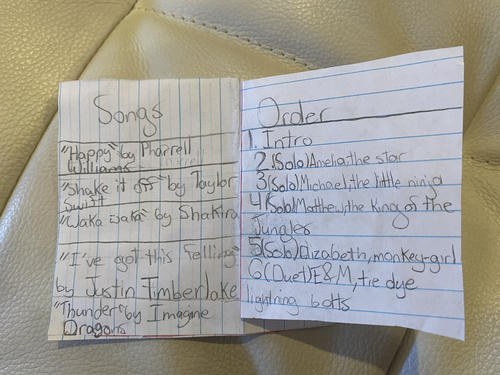 Today was a Saturday, and around here that means Chore day! But today we rushed through our chores so that we could play Ticket to Ride again with Lauren, Lindsay, Anna and David. We've acquired a new toy to make such things easier and we were gratified to find it worked really well.
The afternoon's big activity was the hotly anticipated AAC Recital (Amazing Acro Club). I mentioned that Elizabeth has been running an "acro class" for her younger siblings since mid-March and they've been working hard preparing this over many, many hours.
I had nothing to do with any of this other than authorizing a date and time and organizing for a way for the honoured invited guests to attend. Brendan helped them with figuring out a way to play music (all carefully selected by Elizabeth in advance) which he did under a very tight time frame. At first we thought about doing a facebook live but after a few tests it appeared that Grandma J (who has no facebook account) would not be able to watch live and also Elizabeth was a bit freaked out by all the comments people made on the tests of her and Matthew doing their piano practices. All very positive and she actually enjoyed the praise but she also thought she'd be too self conscious if "just anyone" could see. The recital was supposed to be fun and not stressful, she said. Duly noted. So a zoom for just her immediate family it was.
I was impressed by all the various details for the recital. There was a sign, tickets and even a program. The costumes were agonized over for days. Special hairdos featuring hair gel and high pony tail buns (I found out later that Elizabeth manufactured extra volume in Amelia's bun by using the styrofoam shooter disc from Matthew's robot lol) They had dialogue for each part of the recital which they practiced in advance, and a plan to get Michael to cooperate (bribery with chocolate chips). It all went much more smoothly than any kind of "play" or recital I ever put on as a kid.
After the recital we all hung out and chatted for a bit - Auntie Mary in Wellesley, Grandma and Grandpa in Angola, us, Grandma J, Auntie Karen and Uncle Dave and kids, Uncle Chris and Auntie Yukiko and Erika and Marie, and Auntie Janice. Janice showed us photos of her possible new digs. Isabelle showed us her owl puppet. Erika told us about crocheting and showed us her clever tomato planter made out of an egg carton. Auntie Mary gave us a tour of her flower beds. It was super fun and for a moment it felt like we were all together.
Then Elizabeth and Erika had a bit more zoom chatting time before the kids all went outside to play. Matthew tried to finish his solar kit and it turned out it was defective, which he was sad about but relieved to find out it probably wasn't his fault.
Saturday's are also Elizabeth's piano day, so at 4pm she came inside and did her lesson. This lesson is probably working the best out of all of her virtual lessons. Her teacher is amazing. I was a little nervous about whether it was a good idea to switch to doing it in french but right now it feels like genius.
After piano everyone went outside again. Michael in shorts and a winter coat "the most Canadian attire ever" said Brendan. Our street has started a thing where we all go outside at 5:30pm and ring bells (us) and bang on drums (Mila and Simon) or play the trombone (Noemie). Yesterday was the first day and I totally forgot about it until the kids wanted to know what the weird noise was. Then I quick grabbed some bells and Matthew overenthusiastically rang it in Elizabeth's ear and she rang hers in his and it ended in tears. Today was much better with Michael running around going "Dong Dong Dong" and everyone under strict orders to stay apart. The kids enjoyed being outside so much they insisted on eating supper outside, which they did roman style.
1
On April 18, 2020 at 07:14 pm
Muriel
said:
Nice work! Great recital!
You might also like
- Homeschool wk may 11-15
(0.470896)
- Great Grandma Funeral
(0.470738)
- Crazy Pickles
(0.466939)
- Old Fashioned Week
(0.465821)
- Family Day
(0.46315)
All