April 9, 2020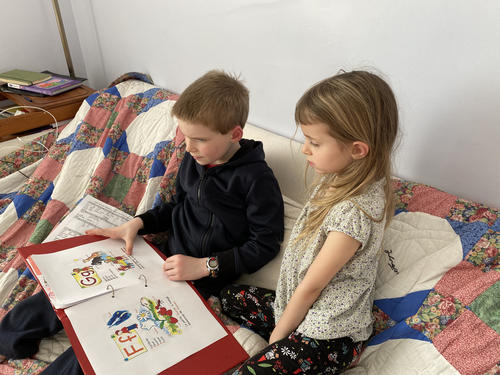 We've been homeschooling full time since mid-March, but this week marks the beginning of a kind of hybrid school as the kids have started to get some assignments and guidance from their teachers.
School-wise so far has been a lot of communications management. Between the various kids and all of their teachers I must have received about 120 emails since the end of last week - even Michael's playgroup is emailing me things. All that to say that if I have not replied to an email you expected a reply to, please ping me again. I probably missed it in the deluge. I expect this will subside as we get into a rhythm.
We've entered what Ontario is calling Phase two, which boils down to an expectation that our kids complete approximately five hours of classwork a week, to be assigned by the teachers. It seems to me that the teachers have been given a fairly free rein over what they will do.
Amelia's teacher sent some activities broken down by suggested day (super helpful approach), with links and a video. We had a Google hangout on Thursday to go over expectations and the teacher explained that she's hoping for lots of photos and video. I was a little surprised by how few of her classmates showed up. Amelia was really excited to see her teacher and the couple of other classmates that popped in - she talked about it for the rest of the day, and she was extremely happy to hear that they are going to have a regular circle time once a week or so. We also used Math-u-See Alpha for math and mini-tfo videos on the letter/number of the week.
Matthew's teacher also sent activities and also at my suggestion sent out Matthew's zoom information to the whole class. He enjoyed speaking to a small number of his friends most mornings this week but still ended up with no one to talk to on Thursday (bummer). The highlight of his week was probably getting to talk to his teacher (whom he adores) on the phone. I realized when we set it up that Matthew has very little experience actually using a telephone. In fact, when she called it went to voicemail because Michael had accidentally put the phone on do not disturb in the living room. I told Matthew his teacher was calling so he answered the phone... even though it wasn't ringing. By the time I realized that he hadn't actually successfully answered the phone - mine was no longer ringing(!) Eventually we figured it out and it sounds like they had a lovely chat. Matthew's assignments were well structured and he especially enjoyed writing a poem about his sister. His gym teacher sent out a little video to say hello and some suggested activities which we did with everyone on Thursday. Apparently Matthew is enjoying homeschooling. He's most of the way through Math-u-See Beta, finding it easy (but if he isn't in the mood he is inclined to make counting errors). He definitely doesn't have all his addition/subtraction facts memorized but is inclined to count on his fingers. It's fascinating comparing his approach to math compared to Elizabeth's.
This week we made accounts in the math prodigy app for Matthew and Elizabeth. It's a role playing game with math practice required to do things like shooting at monsters. So it's hugely popular with the kids and I'd be pretty happy with it if only it had a french version. At least it is forcing Matthew to practice his reading in English? Luckily his current other favourite app is telequebec's app with various little videos and games in french. I figure if they are going to have increased screen time then it might as well have some parts that use their brains... They used to get a couple of hours a week. Now, it's probably doubled (not counting video conferencing app time).
Elizabeth's teacher had two fairly lengthy google hangouts for Elizabeth's class this week. The first one was rather poorly attended, Elizabeth said, but the second time they got up to fifteen students. This is still less than 3/4 of the class. My understanding is that we can expect the teacher to host at least one hour's worth of google hangout classes per week. Elizabeth's been enjoying working on her assignment to create a google slide presentation of what she's been up to for the last three weeks. Elizabeth's English teacher has actually sent the most work and we're working through it methodically in addition to the regular homeschooling work we had already planned. She's been working through fractions using Math-u-See Epsilon.
Overall I'm fairly comfortable with what the school is asking from us at the moment and feel the teachers are doing a good job of getting me the materials I need. Our biggest challenge is definitely french - both getting the kids to speak more in french and generally providing a less anglophone environment during the school day.
On the plus side, Michael's french has been improving dramatically. Perhaps he'll be the kid who is comfortable speaking french already when he arrives in maternelle.
You might also like
- Homeschool wk may 11-15
(0.51054)
- Homeschool wk apr 20-24
(0.50815)
- Virtual school: Week 4
(0.495588)
- Homeschool wk may 4-may 8
(0.494465)
- Homeschool wk apr 14-17
(0.492823)
All