April 10, 2020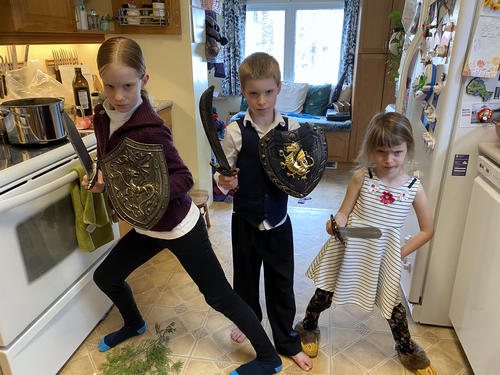 Our Good Friday traditions include church, making eggs and resurrection rolls and generally trying to have a contemplative day as far as feasible with kids.
This year was a little different in that church was online and we didn't have the entire family over to help make eggs and eat said resurrection rolls. Other than that it was a pretty regular day.
We decided to try church in the basement. It was not a huge success. Matthew spent most of his time slithering off and under the couch. Amelia also seemed to have a case of the figets and Michael had to be carted off mid-service screaming to have a nap. At least we were at home and he could be carted off easily for said nap. On the plus side, I caught the kids reciting the trisagion later in the day so apparently they were paying some attention.
After church Elizabeth helped me make rolls from scratch because I'd forgotten to get the refrigerated crescent roll tubes when I went to the store and we weren't about to go back. The recipe we tried suggested we could roll it out on silicone but that was a total fail. The buns did turn out edible. I also forgot to buy cabbage for my blue egg dye, so there was some improving required. We used onion skins for red, blueberry for blue and turmeric for yellow and I'm happy to report that the blueberry blue worked quite well! Elizabeth suggested we could use food colouring instead so clearly she hasn't been properly indoctrinated on the benefits of natural dyes yet. Apparently dressing up to guard the oven is now a required tradition.
Elizabeth also helped me make soup for lunch, which we ate with our resurrection rolls and goldfish to remind us that we are to be "fishers of men".
After lunch we took some pictures as per tradition - if we're going to get extra spiffy we might as well record this event for posterity. Also we did some Holy week activities sent by my mom, but I'll write more about that in a separate post.
The kids watched the Easter story keepers in the afternoon. Michael randomly flung himself off the couch onto his head (no damage, except possibly to my psyche). Matthew and Elizabeth watched two more episodes after the Easter movie but Amelia decided that Story Keepers was too scary and came to chat with Grandma and Grandpa H instead while I made green beans and trifle and hot cross buns.
We had fish and hot cross buns for supper, then the three older kids decorated their eggs before we all fell into bed very very late.
You might also like
- Virtual school: Week 2
(0.43318)
- Old Fashioned Week
(0.425367)
- Family Day
(0.422803)
- Summer School Summer
(0.422401)
- St Patrick\u2019s day
(0.420209)
All