April 15, 2020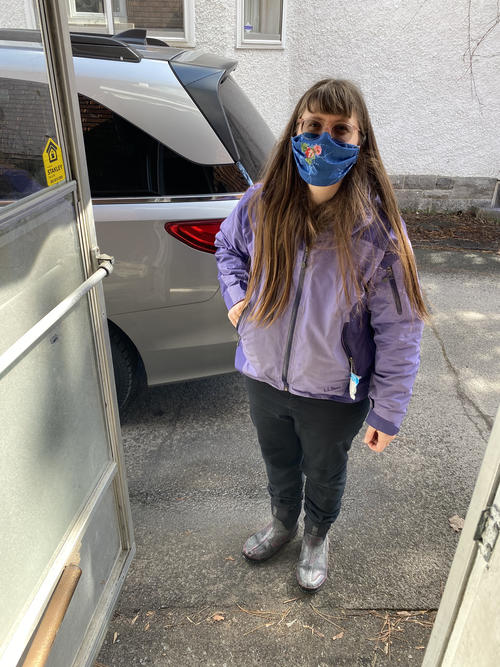 We were almost out of milk so we decided it was time to go shopping again. This time I wore a mask that Margaret made me. The only person I saw during my outing without a mask was one of the grocery store employees. Most of the employees had painter canister masks etc. There was significant variation; clearly not being provided by the store.
Recent virus news seems pretty positive, with new cases seeming to flatten and ICU admissions decreased. Some of the graphs are showing that we are already past the peak of infections here in Canada and the overall deaths in Canada are showing a definite flattening trend. See RheumInfo's Covid-19 update for Apr 13th, for example. Lots of talk these days about whether we could see society reopening "soon" and what form reopening might take, even as Canada day celebrations have been cancelled.
Unfortunately, the number of tests that are pending is climbing in Ontario again so there's a question about whether the statistics actually mean anything at all. More disturbingly, the number of deaths in Ontario is still climbing. This, coupled with the certainty that there is quite a lot of asymptomatic transmission, suggests restrictions will be in our future for some time to come.
I went to Isabella, which is a fairly small Loblaws close to us. I left the house shortly after 9am. There was a staff member at the door controlling access and sanitizing carts, but the sanitizing job of the carts seemed pretty perfunctory (the Metro I went to two weeks ago was much more thorough). There was not much of a line so I only needed to wait a couple of minutes. Outside there was tape on the pavement to give people a visual for how far apart to stand. Signs outside reminded shoppers that they needed to stay 2 metres apart and asked shoppers to go away if they had any symptoms, but unlike Metro the staff member didn't mention this on the way in. Another sign stated that reusable bags were not welcome.
Inside the store there were one way arrows to direct traffic and stickers on the floor to show where to stand at the cash. Most people were completely ignoring the one way arrows, in part because if you didn't you would end up traveling about twice the distance around the store if you forgot anything and in part because the store employees were blocking various aisles while restocking which made it impossible to comply. Mind you, there are one way traffic arrows in the parking lot too that ALSO are routinely ignored.
I also noticed that about half the people in the store appeared to be professional shoppers (with tags stating as such). They were all consulting lists and filling their carts full of much food. They tended to be a bit focussed on their task at hand and I had to tell one guy who kept getting closer than I was comfortable with to back off but to his credit he not only backed off but made sure he stayed well away for the rest of the time we were in the store together. I did not see anyone shopping in groups this time out, although Brendan says that Loblaws isn't allowing multiple people to shop anymore.
All of the cash registers have plexiglass to protect the cashiers - rumours are this will be mandated across Ontario. I didn't see whether this was elevated like at the Metro; I started waiting for a register and moved to the next dot once the person in front of me moved to the end to start loading her groceries only to be told off for not waiting long enough (I had been trying to avoid being told off for not stepping forward soon enough like at the last store. Sigh). It was super unclear where to go and when. I decided that if my 5 loaves of bread were over the limit I'd have a better chance of getting them without having to leave the store and lining up again if I did the self checkout. Since I was shopping for multiple households, I did multiple receipts and stacked my scanned food neatly on the floor. Turns out they've turned off the annoying weight scanner for the self checkout so at least there was no need to try and balance everything on the scanner until you had finished scanning everything.
There were also a few limitations on products (notably bread and eggs). Since I was getting items for four different households this was irritating and stressful. Our regular 18 pack of eggs was sold out, but I did wonder whether the limit of two applied to the 18 pack since this is clearly a way around the limit of 2 dozen. Or maybe that's why it was sold out! The bread was an issue as well. I wanted gluten free bread and special Janice bread and regular bread and raisin bread. Did the limit apply to all bread cumulatively? Or two of each kind of bread? It was very unclear. In any case there did not seem to be any kind of shortage. There have been rumours of meat shortages and rumblings of strain on the food chain for meat in addition to many other items but the shelves were pretty well stocked with the exception of flour and yeast which were completely empty. The toilet paper supply appeared to be fine.
I found the whole experience quite stressful and it took me WAY longer than I anticipated. Overall the amount of food I got wasn't particularly more than a regular shopping trip, but it took twice as long. We're hoping that with some planning and a Costco run by our amazing neighbours we won't have to go again until May.
You might also like
- Music Day
(0.498054)
- Homeschool wk may 11-15
(0.483931)
- The Tree Story
(0.482917)
- Healthy Girl
(0.478784)
- Homeschool wk may 4-may 8
(0.47816)
All