April 19, 2020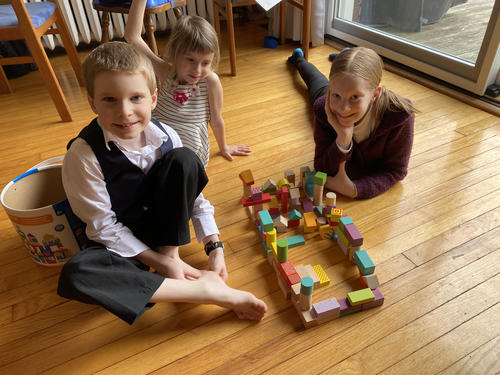 My mom sent us some devotional materials to do every day during holy week.
"I have a little adventure for you this week", she wrote.
After each devotional the kids had an activity.
Palm Sunday (Matthew 23:37) the kids had to find feathers or draw chickens.
Monday (Matthew 26:6-12) Look for a jar that might be used to store perfume. We didn't have enough for everyone to hold one, so Elizabeth drew hers.
Tuesday (Isaiah 49:6) Take a flashlight and look in a dark place. We talked about how we need light to find lost things and Jesus is the light to find us!
Wednesday (John 2:19-22) Build a temple and knock it down. We did the reading but didn't do the building because Michael was supposed to do the knocking down and he was in bed. We shouldn't have waited for him because Michael was VERY upset when the temple got knocked down.
Thursday (Passover story) Dip branches in water to represent hyssop in blood. Put on the lintel and two doorposts. Or, alternatively, smear water all over the windows.
Friday (Matthew 27:45,50,51) Tear the cloth in the temple. We didn't have an old cloth to tear but we improvised.
Saturday (Psalm 130) Find a seed, and plant it. Now wait! We waited a long time, because our seeds hadn't actually arrived on Saturday. Now it's Low Sunday - the last Sunday in the Easter Octave and we finally got around to planting our seeds!
You might also like
- Silly Sock Week
(0.372527)
- Freak Snowstorm
(0.356389)
- LRT Grand Opening
(0.35468)
- Earth Day
(0.3539)
- Good Friday 2015
(0.353175)
All